工学部/工学系研究科 トピックス
MA Zihan (D3) awarded 'Highly Commended Poster' in the 21st International Meeting on Lithium Batteries (IMLB) (20 out of 731 posters)

MA Zihan (D3) awarded 'Highly Commended Poster' in the 21st International Meeting on Lithium Batteries (IMLB) (20 out of 731 posters)

IMLB is basically the most important conference in the battery field, which is held every 2 years. All the famous groups in this field over the world would participate in this conference to share their latest achievements. The 21st IMLB was held in Sydney, Australia from Jun. 26th to July 1st, 2022.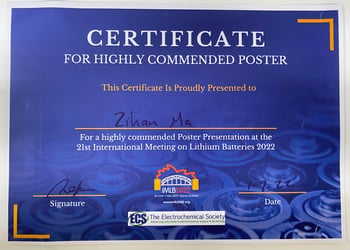 About awarded research
The awarded poster entitled 'Anhydrous Grotthuss mechanism for fast proton transport in a dense oxide-ion array of α-MoO3' was based on the research published recently on Advanced Materials (DOI: 10.1002/adma.202203335). This research proposed an ultrahigh-rate proton battery system that can be charged/discharged within one minute. The detailed mechanism of the fast proton kinetics in solid state material was unveil in this research.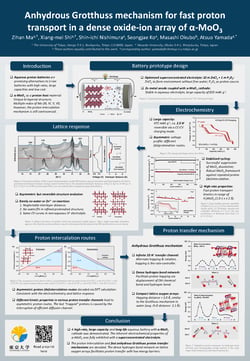 Your impression & future plan
First of all, I would like to thank Prof. Atsuo Yamada and all members of Yamada-Kitada laboratory for their help and support in this achievement. I always wished I could attend the IMLB conference from the time I joined Yamada lab in 2017. Unfortunately, The IMLB that should have been held in 2020 was canceled due to COVID-19. Therefore, IMLB 2022 was held after a 4-year blank, and it was my first time to attend IMLB. This conference further strengthened my passion in the battery field, that I would like to devote my career in the development of more powerful, safer, and cheaper battery systems.