EVENT
Event announcement: "Pioneering the Universe" School of Eng., U-Tokyo × Sony Group Corp.
The School of Engineering at The University of Tokyo and Metaverse School of Engineering invite you to the lecture course "Pioneering the Universe" cooperated with Sony Group Corp. primary designed for middle and high school students. The event will provide the lectures of the professors of the University of Tokyo, talks and demonstrations by Sony Group Corporation's Space Entertainment Promotion Office, and then followed by a workshop discussion to envision your future profession.
Date: December 16, Saturday, 2023
Time: Start 2pm – Close 5pm
Location: HASEKO-KUMA HALL (Hongo Campus) and ONLINE
Capacity: Venue: Up-to 80 attendants, Online attendances: up to 1,000 participants
Participation Free: the event is free of charge
Registration: Read the terms and precautions, fill the following application foam and send it.
(Registration Deadline Wednesday, November 22, 2023. *Online participation is available until the day of the event.)

1216「宇宙を拓く」申込フォーム (google.com)
Eligible participants:
<Participants at the venue> Junior high school students,
High school students,
Applying students
<Online participation> General public, Enrolled students,
Applying students, International students,
Alumni, Companies, Elementary school students, Junior high school students, High school students, University students, Academic and administrative staff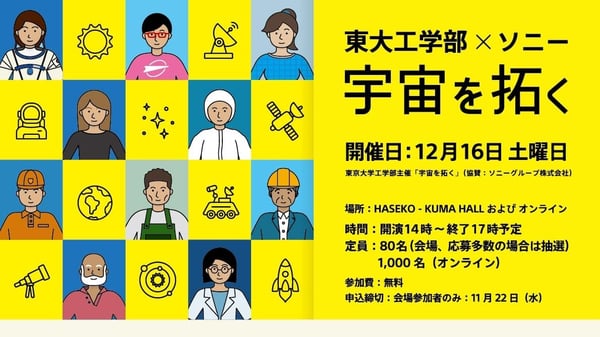 For more information, please visit our Special event website:
https://sites.google.com/view/metauchu23/
Organized by:
School of Engineering, The University of Tokyo
Metaverse School of Engineering
Cooperated by: Sony Group Corporation
Contact info for inquires: metaucyu23@gmail .com