EVENT
Call for applications: The Rising Stars Women in Engineering Workshop (RSE) 2023
The University of Tokyo (UTokyo) School of Engineering is pleased to announce that applications for the Asian Deans' Forum – The Rising Stars Women in Engineering Workshop 2023 are now open! Asia's top engineering schools have organized this workshop to give you and other young female professionals in engineering disciplines the opportunity to take part in a number of valuable keynote lectures, panel discussions, and mentoring sessions.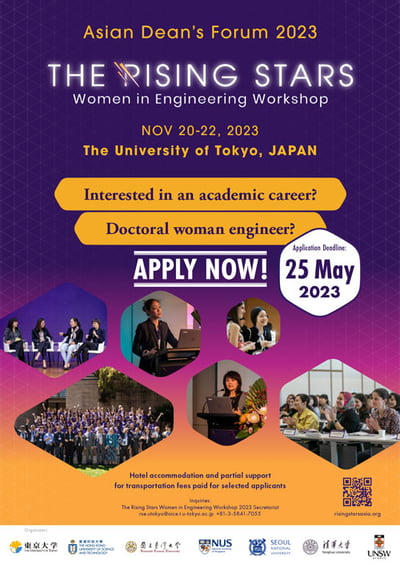 From 20 November to 22 November 2023 (Monday through Wednesday), the workshop will be held at UTokyo's main Hongo campus in the heart of the Tokyo metropolitan area. If you are selected, UTokyo will provide hotel accommodations for these three days, as well as partial support for travel costs from your country to the workshop.

Visit the website for information about eligibility criteria, program schedule, and more:
https://www.risingstarsasia.org
Act fast—applications will close on 25 May 2023.

We look forward to connecting with you!

Dates: 20-22 November 2023
Venue: The University of Tokyo (Hongo Campus)
Host and co-hosts: Member institution of the Asian Deans' Forum
○ Hong Kong University of Science and Technology (HKUST)
○ National Taiwan University (NTU)
○ National University of Singapore (NUS)
○ Seoul National University (SNU)
○ Tsinghua University (THU)
○ The University of New South Wales Sydney (UNSW Sydney)
○ The University of Tokyo (UTokyo)

Application Deadline: 25 May 2023
Hotel accommodation and partial support for transportation fees paid for selected applicants

Eligibility of Applicants:
・All women (cis and trans); and
・Fluent in English; and one of the following
・Fresh PhD graduates or PhD students close to graduation in engineering-related disciplines; or
・Postdocs or young researchers with engineering PhD degrees; or
・Young engineers with PhD degrees working in industry who are interested in exploring careers in academia
Participants from a previous Asian Deans' Forum – The Rising Stars Women in Engineering Workshop are not eligible to apply again.
Inquiries:
The Secretariat
Asian Deans' Forum 2023
The Rising Stars Women in Engineering Workshop
rse.utokyo@oice.t.u-tokyo.ac.jp
+81-3-5841-7055