EVENT
The 8th the University of Tokyo-Tsinghua University Joint Symposium 2023
Tsinghua University and the University of Tokyo entered into a Strategic Partnership in 2018 and have carried out many research and educational exchanges under this project. The 8th Joint symposium will be held at UTokyo as follows.
◆The University of Tokyo-Tsinghua University Joint Symposium 2023
"50th Anniversary of the Normalization of Diplomatic Relations Between Japan and China"
Date and time: 14:30-17:10 (JST) / 13:30-16:10 (CST), Monday, Nov 6, 2023
Venue: Ito Hall, Ito International Research Center, Hongo Campus, The University of Tokyo
https://www.u-tokyo.ac.jp/adm/iirc/en/access.html *Online streaming available
Language: English
Intended for faculty, staff and students of UTokyo and Tsinghua University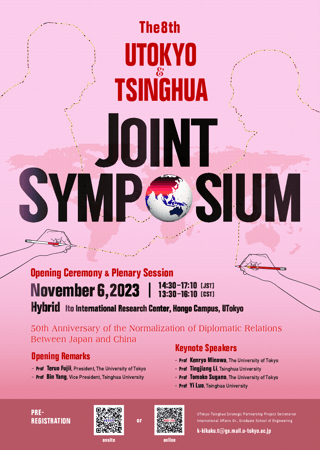 Click on image to view in PDF
Program:
MC: Professor Yoshiaki Nakano, School of Engineering, The University of Tokyo
◆ Opening Ceremony 14:30-14:50 (JST) 13:30-13:50 (CST)
Welcome Addresses:
Dr. Teruo Fujii, President, The University of Tokyo
Professor Bin Yang, Vice President, Tsinghua University
Group Photo
◆ Plenary Session 14:50-17:00 (JST) 13:50-16:00 (CST)
Keynote Presentation 1 30mins
Exchanges between Japan and China from a Buddhist Perspective
Professor Kenryo Minowa, Graduate School of Humanities and Sociology,The University of Tokyo
Keynote Presentation 2 30mins
[TBC] The Legacy of Tsinghua's Involvement in the Collaboration of Japanese Universities
[TBC] Professor Tingjiang Li, Department of History/Institute of Humanities, Tsinghua University
Break 10 mins
Keynote Presentation 3 30mins
Importance of Intellectual Property Rights and Industry-Academia Collaboration
Professor Tomoko Sugano, Institute of Industrial Science, The University of Tokyo
Keynote Presentation 4 30mins
Our Research and Joint Business in Pearl River Delta Area
Professor Yi Luo, Department of Electrical Engineering, Tsinghua University, CAE Member
◆ Closing Remark 17:00 (JST) 16:00 (CST)
Professor Satoshi Watanabe,
Deputy Director, International Strategic Planning Office, The University of Tokyo
Registration (Onsite participation):
https://forms.office.com/r/nav8gKiUqK
Registration (Online participation):
https://us02web.zoom.us/webinar/register/WN_uTjXeH4lQb6rWaGS2xDMZQ
If you have not yet decided whether you will participate onsite or online, please register to participate online.
Contact:
International Affairs Group, School of Engineering, the University of Tokyo
k-kikaku.t@gs.mail.u-tokyo.ac.jp