TOPICS
Young Faculty : Associate Professor Eri Itoh
Young Faculty / 059
Associate Professor Eri Itoh, Tsuchiya and Itoh laboratory, Department of Aeronautics and Astronautics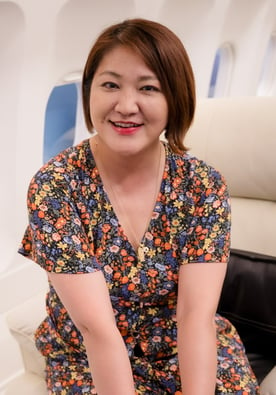 <Biography>
( Education )
2007 : PhD in Aeronautics and Astronautics,The University of Tokyo
Title : On the Harmonizing Automation System and Pilot Maneuvers
Supervisor : Prof. Shinji SUZUKI
2004 : Master in Aerospace Engineering, Osaka Prefecture University, Osaka, Japan
2002 : Bachelor in Aerospace Engineering, Osaka Prefecture University, Osaka, Japan
( Work Experience )
Since November 2019 : Associate Professor, Department of Aeronautics and Astronautics School of Engineering, The University of Tokyo, Tokyo, Japan
Since October 2017 : Associate Member, Science Council of Japan, Tokyo, Japan
Since October 2014 : Chief Researcher, Air Traffic Management Department Electronic Navigation Research Institute (ENRI)
National Institute of Maritime, Port and Aviation Technology (MPAT)
National Research and Development Agency, Tokyo, Japan
February 2019 : Visiting Scholar, Nanyang Technological University, Singapore
April 2017 - September 2017 : Part-time Lecturer, The University of Tokyo, Tokyo, Japan
March 2013 - March 2014 : Visiting Scholar, NASA Ames Research Center, Mountain View, USA
April 2011 - September 2014 : Senior Researcher, Air Traffic Management Department Electronic Navigation Research Institute, Tokyo, Japan
April 2012 - March 2013 : Visiting Researcher, The University of Tokyo, Tokyo, Japan
October 2008 - March 2013 : Visiting Researcher, National Aerospace Laboratory NLR, Amsterdam, The Netherlands
April 2007 - March 2011 : Researcher, Air Traffic Management Department Electronic Navigation Research Institute (ENRI), Tokyo, Japan
October 2006 - March 2007 : Doctoral Researcher, Eurocontrol Experimental Centre, Bretigny - sur - Orge, France
April 2004 - March 2007 : Research fellow- Japan Society for the Promotion of Science, JSPS, Tokyo, Japan
<About the Research>
Air Traffic Management (ATM) system is a large-scale and complex socio-technical system, which consists of hardware, software, and human society including many stakeholders, e.g. airlines, industries, governments, and so on. Our studies design ATM systems, which introduce automation supports for human operators and realize even better safety and efficiency in the operation, and economically and environmentally-friendly sustainable flights in the world.
a) Designing Integrated Arrival, Departure, Surface Management Systems, especially targeting the Tokyo Metropolitan Area
Integrating the arrival manager (AMAN), departure manager (DMAN), and surface manager (SMAN) is expected to improve the ATM efficiency at and around a large airport. Our study proposed systematic approaches applying data science, mathematical modeling, and simulation experiments. We aim to provide a basis for designing AMAN/DMAN/SMAN integration targeting Tokyo (Haneda) and Narita International Airport.
b) Sustainable Aircraft Operation
Our research aims to realize ecological and environmental-friendly air traffic operations, which minimize fuel consumption and workloads of air traffic controllers and pilots. We proposed Fixed-flight Path Angle (FPA) descent, and has been developing applications and support tools which enable us its deployment under academic-industrial collaborations.
c) Designing Efficient and Resilient ATM systems and Operations in ASEAN Region
Air traffic demands in the ASEAN region has been dramatically growing. We collaborate with Air Traffic Management Research Institute (ATMRI) at Nanyang Technological University, and study on the designing ATM systems and operations, which mitigate air traffic congestion and realize resilient air space operation targeting even better safety and efficiency under the world's highest air traffic demand.
d) Enhancing Interdisciplinary Developments in and from the ATM field
We are interested in interdisciplinary developments in and from the ATM research field collaborating with airlines, airports, industries, and academia in various fields.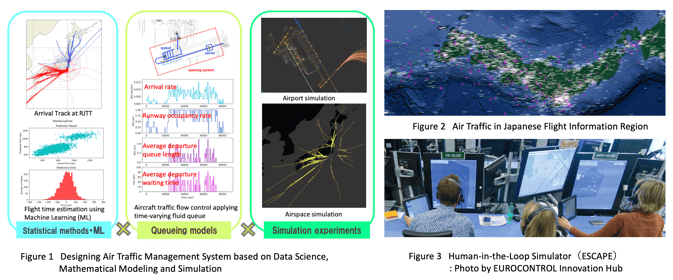 <Future Aspirations>
We aim to contribute sustainable aircraft operation and even better ATM system design especially in Asia-Pacific region, and to enhance its presence in developing global standards. We are also interested in interdisciplinary developments and research collaboration with various fields.
<URL>
Tsuchiya and Itoh laboratory : https://www.flight.t.u-tokyo.ac.jp/
researchmap : https://researchmap.jp/eriitoh_researchmap
Discover oue people(U-tokyo):Eri Ito(YouTube)