TOPICS
Young Faculty : Project Associate Professor Kenji Shimazoe
Young Faculty / 066
Project Associate Professor Kenji Shimazoe, Takahashi Laboratory, Department of Bioengineering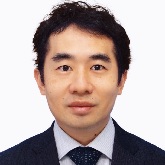 < Biography >
2004 : B.S., Department of Biological Science, Faculty of Science, The University of Tokyo
2006 : M.E., Department of Quantum Engineering and Systems Science, Graduate School of Engineering, The University of Tokyo
2009 : Ph.D. (Engineering), Department of Bioengineering, Graduate School of Engineering, The University of Tokyo
April 2007 - March 2009 : Research Fellow of Japan Society of the Promotion of Science (JSPS) (DC2, PD)
April 2010 - March 2013 : Postdoctoral Researcher, Graduate School of Engineering, The University of Tokyo
November 2012 - January 2013 : Visiting Researcher, The Technical University of Munich
April 2013 - September 2017 : Research Associate, Department of Nuclear Engineering and Management, Graduate School of Engineering, The University of Tokyo
October 2017 - March 2021 : PRESTO Researcher, Japan Science and Technology Agency
November 2017 - March 2020 : Project Lecturer, Department of Nuclear Engineering and Management, Graduate School of Engineering, The University of Tokyo
April 2020 - Present : Project Associate Professor, Department of Bioengineering, Graduate School of Engineering, The University of Tokyo
< About the Research >
Invisible high-energy photons and particles naturally exist in our living environment and world. For example, X-ray is used in medicine to visualize the structure of organs in human body and positron and gamma-rays are used to monitor the movement of molecules and diagnosis in nuclear medicine. Besides, X-ray, gamma-ray and heavy particles are used for the treatment by utilizing its characteristic of high energy.
Quantum measurement and sensing technology that accurately measure and control such high-energy light and particles not only directly lead to higher performance of medical diagnostic equipment, but also create unprecedented medical equipment by devising new principles. Those technology can be also used to measure the environment, physics and space and the discovery of new physical phenomenon will open new possibility of medical applications.
In the laboratory, we are focusing on (1) research on new quantum measurement principles and sensing technology using the properties of atomic nuclei, elementary particles, and light (2) application to nuclear medicine, life science, and diagnostic treatment technology (3) research on environment, nuclear physics, and radiation science.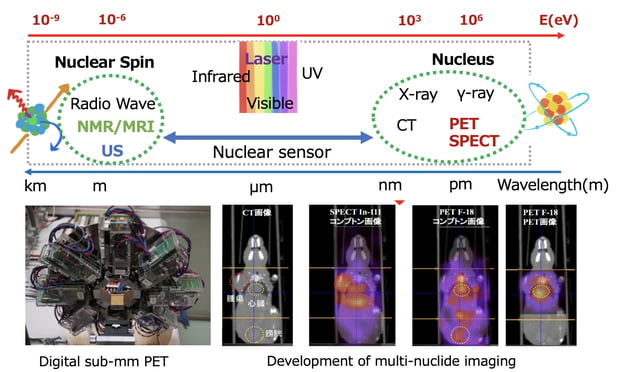 < Future Aspirations >
Research utilizing the large energy of atomic nuclei, elementary particles, and high-energy light and particles leaves room for further development, and is an interdisciplinary field that spans physics, chemistry, and life sciences. I will cooperate with researchers in various fields to promote research based on our own original ideas, techniques, and principles.
< URL >
Takahashi Laboratory : http://spiny.t.u-tokyo.ac.jp/
Researchmap : https://researchmap.jp/shimazoe