TOPICS
Young Faculty : Associate Professor Tsunaki Takahashi
Young Faculty / 073
Associate Professor Tsunaki Takahashi, Yanagida laboratory, Department of Applied Chemistry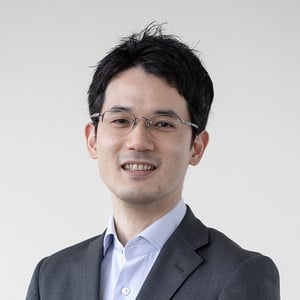 < Biography >
March 2013: Dr. Eng. in Department of Physical Electronics, Tokyo Institute of Technology
April 2013: Research Fellowship for Young Scientists (PD), JSPS
April 2014: Assistant Professor, Department of Electronics and Electrical Engineering, Keio University
January 2017: Research Assistant Professor, Institute for Materials Chemistry and Engineering, Kyushu University
April 2018: Research Associate Professor, IMCE, Kyushu University
April 2020: Research Associate Professor, Department of Applied Chemistry, School of Engineering, The University of Tokyo; PRESTO Researcher, JST
April 2023: Associate Professor, Department of Applied Chemistry, School of Engineering, The University of Tokyo
< About the research >
Utilization of real-world data obtained by sensors, such as autonomous driving and voice recognition, has been developing rapidly in recent years. Current data utilization primarily focuses on physical quantities such as light and sound. On the other hand, the utilization of chemical data, including types/concentrations of molecules and their variations, has remained underdeveloped due to its complexity. For example, human breath contains information related to health status. However, the breath includes hundreds of types of molecules that can greatly fluctuate due to diet and exercise. Until now, there had been no sensor technology capable of measuring such highly variable and disturbance-prone molecules over a long period of time and integrating it into mobile devices.
We have been developing chemical sensor materials and devices based on metal oxide semiconductors, which are chemically and thermally stable and whose electronic state changes due to reactions with molecules. By integrating thermally robust material design and high-density integration of nanoscale sensors, we aim to develop a sensor system that enables the identification of biogases, food volatile molecules, and molecules in the environment on mobile devices.

< Future Aspirations >
Based on the sensor technology we have developed so far, we are expanding our research to practical systems, such as biogases from patients with diseases and gas molecules volatilizing from food. We aspire to contribute to the creation of foundational technology that can help solve a wide range of societal issues, such as healthcare and reducing food waste.
< URL >
Yanagida Laboratory:http://yanagida-lab.weebly.com/