TOPICS
A paper authored by Hiroaki Kosuge(M2), Department of Systems Innovation, was published in Materials and Design and it was picked up as a Featured Paper in Advances in Engineer
A paper authored by Hiroaki Kosuge (M2), Department of Systems Innovation, was published in Materials and Design and it was picked up as a Featured Paper in Advances in Engineer (Canadian research company).
<Name of Award and short explanation about the award>
A paper (which has been published in Materials and Design) authored by Hiroaki Kosuge was selected as a "Featured Paper" by Advances in Engineering, AIE features particularly outstanding research papers from leading international journals in all engineering disciplines and presents them on its website. The selection committee consists of vice-presidents and deans of the world's top universities and the editorial boards of prominent journals, and 20 papers per week (less than 0.1% of the total number of publications) will be selected from all fields of engineering, and the AIE will disseminate the results of its research to private companies around the world and provide consulting and matching services, which is expected to lead to future international collaborations.

<About awarded research>
A new material damage estimation rule was devised for the damage of structures by earthquakes and waves. This paper investigates how materials are damaged in an earthquake by reproducing prestrain which simulates shaking by an earthquake and carrying out a fracture test. By carrying out the finite element method analysis of crystal plasticity based on the micro mechanism of brittle fracture, the material damage mechanism which has not been clarified until now was discovered. In addition, this paper investigates the effect of prestrain on the critical fracture condition of material which leads to brittle fracture, and proposes a new model on the arrangement of the critical stress which has not been unified until.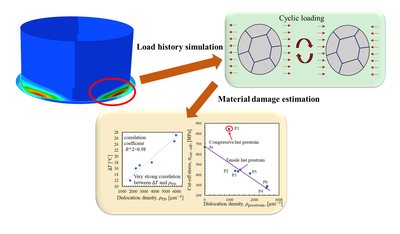 <Your impression & future plan>
In Japan, which is an earthquake-prone country, it is necessary to conduct further research on the damage law in order to handle structures more safely. In the future, we would like to focus on the damage law under more complicated conditions and the fluctuation of the damage law due to microstructure, and develop the research on the soundness of structures

Material and Design
https://www.sciencedirect.com/science/article/pii/S0264127519306604

Advances in Engineering
https://advanceseng.com/high-precision-prediction-avoiding-catastrophic-failure-land-steel-structures-large-scale-earthquakes-cyclic-large-prestrain/