TOPICS
Kota Shiba (D3), Department of Electrical Engineering and Information Systems, received IEEE SSCS Predoctoral Achievement Award
On 19th February 2023, Kota Shiba (D3), Department of Electrical Engineering and Information Systems, received IEEE SSCS Predoctoral Achievement Award.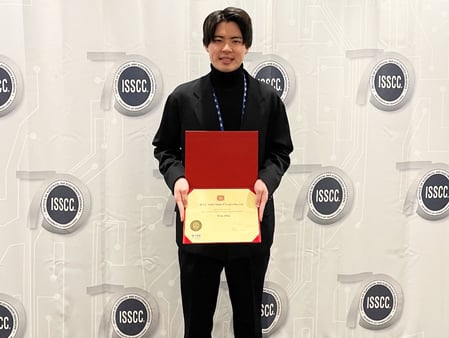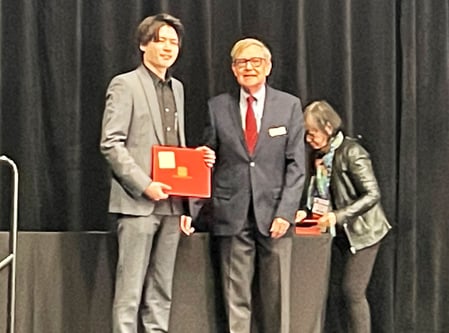 IEEE SSCS Predoctoral Achievement Award
The IEEE SSCS Predoctoral Achievement Award is the highest honor award given to a small number of promising Ph.D. students majoring in solid-state circuits by the IEEE Solid-State Circuits Society (SSCS). This prestigious award has a 40-year history dating back to its former Predoctoral Fellowship Award. It is awarded to promising graduate students annually based on academic record and promise, quality of publications, and a graduate study program well matched to the charter of SSCS. The award ceremony took place on the first day of "Chip Olympics" ISSCC 2023.
(Partially quoted from https://sscs.ieee.org/membership/awards/predoctoral-achievement-award)
About awarded research
The 3D-stacked SRAM provides high-bandwidth and low-power access, and plays an important role in achieving high-performance and low-power operation in a variety of devices. The inter-chip wireless communication realizes a 3D-stacked SRAM at lower cost compared to the conventional methods. His research presented the world's first 3D-stacked SRAM with wireless communication and demonstrated the wireless communication using the world's smallest size coil and coil placed over SRAM blocks. Co-designing the hardware architecture and AI algorithm further reduced the power consumption of the 3D-stacked SRAM. His research results have been accepted for publication in 8 international academic journals and 22 international conference presentation, and his significant contribution to research in the field of solid-state circuits led to the award.
Your impression & future plan
It is my great honor to receive the IEEE SSCS Predoctoral Achievement Award. I would like to thank the professors (Professor Tadahiro Kuroda, Project Professor Mototsugu Hamada, and Assistant Professor Atsutake Kosuge), researchers, and students who have supported my research.