TOPICS
Takehiro Sato (M1) , Department of Bioengineering, received "The Society of Polymer Science, Japan Annual Meeting Poster award 2022"
On 27th May 2022, Takehiro Sato (M1) , Department of Bioengineering, received "The Society of Polymer Science, Japan Annual Meeting Poster award 2022" at the 71st SPSJ Annual Meeting.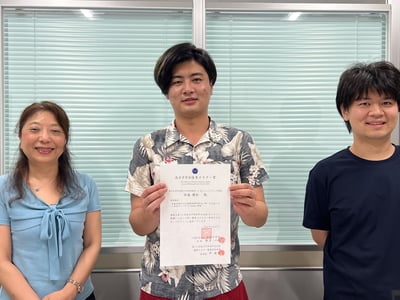 The Society of Polymer Science, Japan Annual Meeting Poster award 2022
This award is given to the outstanding presentation in the poster session of the 71st SPSJ Annual Meeting (held online).

About awarded research
"Synthesis and characterization of the zwitterionic polymer nanogel for implantable biofuel cell"
Enzymatic biofuel cell is paid a lot of attention as implantable energy harvesting device by the ability to generate energy from glucose that exist in our body. However, when considering such application, there are some problems like low power density, short lifetime, and so on. These are caused by the enzyme leakage, denaturation, or nonspecific adsorption of biomolecules or proteins. In this study, we prepared zwitterionic polymer with small molecular weight and narrow molecular weight distribution by reversible addition fragmentation transfer (RAFT) polymerization. Then, glucose oxidase (enzyme) and amino ferrocene (electron mediator) were modified on the polymer and synthesized nanosized gel particles. We confirmed the nanogel can be used as a material for the electrode of enzymatic biofuel cell.

Your impression & future plan
I'm feeling honored to receive this award. I appreciate very much support from Prof. Madoka Takai, Assistant Prof.Tsukuru Masuda, and Dr. Huang Yixuan. I also thank the lab members, especially Dr. Huang for her valuable advice. I will continue to work on the theme hard to make some more production.