TOPICS
Young Faculty : Lecturer Takayuki Shiraiwa
Young Faculty / 061
Lecturer Takayuki Shiraiwa , Enoki / Shiraiwa Laboratory , Department of Materials Engineering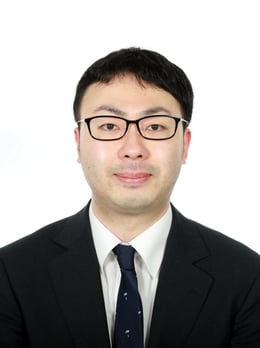 <Biography>
2008.3 : BS, Department of Materials Engineering, The University of Tokyo
2010.3 : MS, Department of Materials Engineering, The University of Tokyo
2013.3 : PhD, Department of Materials Engineering, The University of Tokyo
2010.3 : Research Fellowships for Young Scientists (DC1), Japan Society for the Promotion of Science
2013.4 : Postdoctoral Researcher, Department of Materials Engineering, The University of Tokyo
2015.4 : Assistant Professor, Department of Materials Engineering, The University of Tokyo
2020.4 : Lecturer, Department of Materials Engineering, The University of Tokyo
<About the Research>
Various materials are used around us, such as metals, ceramics, and polymers. Even if materials appear to be a single color to the human eye, it may be composed of crystals of various sizes or have irregular structures on the nano to micro scale when observed under a microscope. The fascination of materials engineering is that by controlling structural heterogeneity on an invisible scale, visible properties such as strength can be changed dynamically.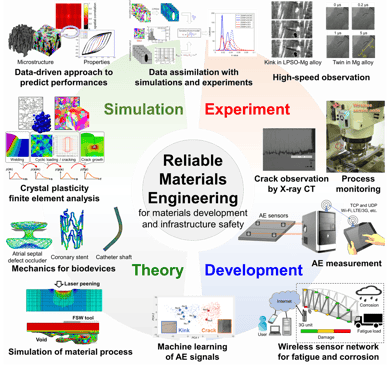 For example, we have found that steels used in automobiles can unexpectedly exhibit high strength and high ductility by controlling the spatial distribution of hard and soft crystal grains. These structural materials are used in our immediate surroundings, such as highways, bridges, automobiles, trains and aircraft. Even a small improvement in materials performance can have a huge impact on society as a whole.
Maintaining these excellent materials performances over a certain time and space is materials reliability. Our research is focused on quantitatively evaluating, controlling, and improving materials reliability during the development, manufacturing, and utilization of materials. Specifically, we are working on (1) inverse problem analysis to improve the mechanical properties of steels, (2) elucidation of fatigue mechanisms in titanium and magnesium alloys, (3) damage monitoring during 3D additive manufacturing, and (4) data assimilation of acoustic emission and discrete dislocation dynamics simulations.
<Future Aspirations>
In order to make attractive advanced materials indispensable for building the social infrastructure of the future, I want to evaluate the reliability of the materials and provide feedback to materials development.
<URL>
Enoki / Shiraiwa Laboratory : https://rme.mm.t.u-tokyo.ac.jp/index_e.html