TOPICS
Huang Yixuan (D3), Department of Bioengineering, received Student Awards
On 30th September 2021, Huang Yixuan (D3), Department of Bioengineering, received Student Awards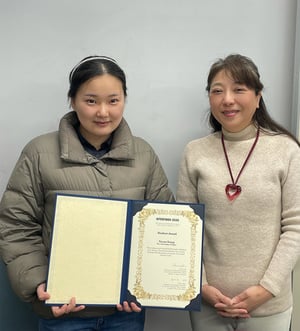 Student Awards
Interfinish2020 presents awards for outstanding presentations by students. The award winners receive up to 50,000 JPY and an award certificate.

About awarded research
[Electrodeposited gold/SUS electrodes modified with enzyme immobilized redox zwitterionic hydrogel for bioanodes of glucose enzymatic biofuel cells]
Biofuel cells that generate electricity from glucose are promising for powering implantable devices. However, low power output and poor operational stability limits its feasibility. In previous study, a redox zwitterionic hydrogel has been prepared and applied to biofuel cell applications, which can preserve enzyme's activity and resistance to biofouling. However, limited surface area of glassy carbon electrodes leads to poor feasibility of the biofuel cell. To obtain a biofuel cell with higher power output, miniaturized electrodes possess higher surface area and specific surface area are desirable. We selected the needle-typed SUS electrode covered with gold having excellent conductivity and biocompatibility and enzyme-immobilized hydrogel was modified on the electrodes. Performance including current density and stability were compared to optimize the condition of the preparation of electrodeposited gold electrodes for biofuel cell applications.

Your impression & future plan
It's a great honor to receive the Student Award as a doctoral student at the University of Tokyo. I would like to take this opportunity to express our gratitude to Prof. Madoka Takai and lab members for their kind guidance and cooperation. In the future, I will expand into research on humans as an energy source for implantable medical electronic devices, contributing to the extension of healthy life expectancy, which is a major issue in the field of health care.