TOPICS
Salman Alrakan (M2), Department of Nuclear Engineering and Management, won the Most Excellent Student Award at ASME 2018 Pressure Vessels & Piping Division Conference Student Paper Competition Awards
On 1st August 2018, Salman Alrakan (M2), Department of Nuclear Engineering and Management, won the Most Excellent Student Award at the American Society of Mechanical Engineers (ASME) 2018 Pressure Vessels & Piping Division Conference Student Paper Competition Awards.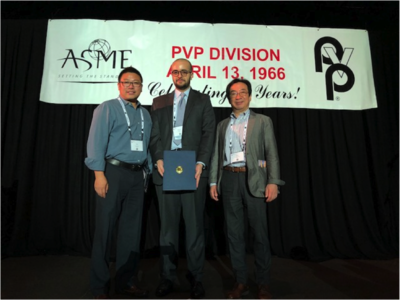 Photo: Honors & Awards celebration(The center is Mr.Salman)
<Name of award and short explanation about the award>
Student Paper Competition (BS/MS Category) Award for ASME PVP2018
The ASME 2018 PVP Conference promises to be the outstanding international technical forum for participants to further their knowledge-base through exposure to diverse engineering topics, dissemination of cutting-edge technology, and exchange of opinions and ideas both from industry and academia in a variety of topical areas related to Pressure Vessel and Piping technologies for the Power and Process Industries. PVP is looking forward to fruitful technical exchanges with participants from Europe, Africa, the Middle East, Asia, the Americas, and the Oceania islands.
After the selection by paper review, 13 students made presentations at the Student Paper Competition (BS/MS Category) Sessions for ASME PVP2018. They were scored by session developers and all of participants. As the results, Mr. Salman won the 1st Prize. Student from Japanese university won the first prize in six years.

<About awarded research>
Paper :
Salman Alrakan, Hiroshi Kuribayashi and Naoto KASAHARA, STRESS EVALUATION METHOD BY FREQUENCY RESPONSE FUNCTION FOR ELBOW PIPES UNDER THERMAL STRATIFICATION, ASME, PVP2018-84211
In order to study causes and countermeasures of crack initiation of elbow pipes in nuclear plants, thermal stress mechanism was clarified and its evaluation,method was proposed.

<Your impression & future plan>
I would like to thank Prof. Naoto KASAHARA. His guidance, encouragement, support and knowledge have given me allot. Also, I would like to thank King Abdullaziz City for Science and Technology (KACST) for their support as well and in particular Prof. Turki Alsaud the president of KACST. In the future, I plan to enroll in the PhD program here at the University of Tokyo. I am very interested in thermal stress problems and the KASAHARA Laboratory has made pioneering progress in this field and in the design of nuclear reactors in general.