EVENT
Celebrating Chili-Japan 125th Anniversary of Diplomatic Relation Binational Academic-Cultural Workshop on Sustainable Wood Architecture

Binational Academic-Cultural Workshop on Sustainable Wood Architecture is scheduled from the end of September to December to celebrate the 125th anniversary of diplomatic relation between Chile and Japan. This workshop consist of studio design program, serial lectures and relating events prepared by the collaboration of Faculty of Architecture and Urbanism, The University of Chile and the Department of Architecture, The University of Tokyo. The outline of the WS will be explained at the opening event.
Due to the time difference between the two countries, the lectures and events will take place in the early morning in Japan (the time written below are all Japan time).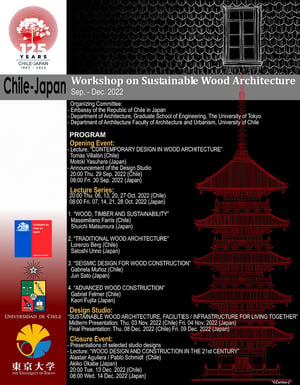 ■Opening Event
・Date:9/30(Fri) 8:00~9:30AM
・Schedule:
Welcome address
Ambassador of Chile and Japan, Teruo FUJII (President of UT), Rector of University of Chile
Outline of Event
Kaori Fujita
Special lecture「Contemporary Design in Wood Architecture」
Motoki Yasuhara, Tomas Vilaion
・Online URL and detail information is explained in the information of Opening Event. Those who wish to take the Yasuhara/Fujita studio are required to attend the event.

■Serial Lectures
・Date:October, Every Friday morning 8:00~9:45AM
・Content:
Each university (Chile and Todai) will give one short lecture (20 minutes)
on the same topic followed by 40 minutes of Q&A and discussion.
・Schedule
10/7(Fri):Wood, Timber and Sustainability
Shuichi Matsumura・Massimiliano Farris
10/14(Fri):Traditional Wood Architecture
Satoshi Unno・Lorenzo Berg
10/21(Fri):Seismic Design for Wood Construction
Jun Sato・Gabriela Muñoz
10/28(金):Advanced Wood Construction
Kaori Fujita・Gabriel Felmer
・Online by Zoom
https://u-tokyo-ac-jp.zoom.us/j/82711650039?pwd=OEJ6RndvUmdFQnFqQjBTbG9sSGRTdz09
Meeting ID: 827 1165 0039
Pass Code: 961970
・Note:
Those who are taking the Yasuhara/Fujita studio are required to attend the lectures Those who are not enrolled in the above studio are welcome to attend the lectures.
Students who wish to receive credit by attending the serial lectures, without taking the studio are required to hand in additional task. This will be notified during the lecture.

■Joint Design Studio
・Title:
Sustainable Wood Architecture, Facilities/ Infrastructure for Living Together
・Professors in charge:Motoki Yasuhara, Kaori Fujita Akiko Okabe, Jun Sato, Yoshihiro Fukushima
・Schedule
Every Tuesday 13:30〜 :Esquiss check(at Hong Campus UT)
11/4(Fri) 8:00〜:Mid presentation(jointly done by University of Chile)
12/9(Fri) 8:00〜:Final presentation(jointly done by University of Chile)
・Please refer to the information of the A term studio course

■Closure Event
・Data:12 月 14日(Wed)8:00~10:00AM
・Contents
Presentation of selected works of the studio work
Special lecture:Wood Design and Construction in the 21st Century
Akiko Okabe, Alastar Aguilera, Pablo Schmidt

Organizing Committee
Chilean Embassy to Japan
Department of Architecture, the University of Tokyo
Faculty of Architecture and Urbanism, the University of Chile