2020.01.27
【Multicultural camp for exchange between International and Japanese students】
JLCSE will offer a Multicultural camp for exchange between International and Japanese students. You can enjoy the great opportunity to communicate with various backgrounded students of U-Tokyo. Please join us!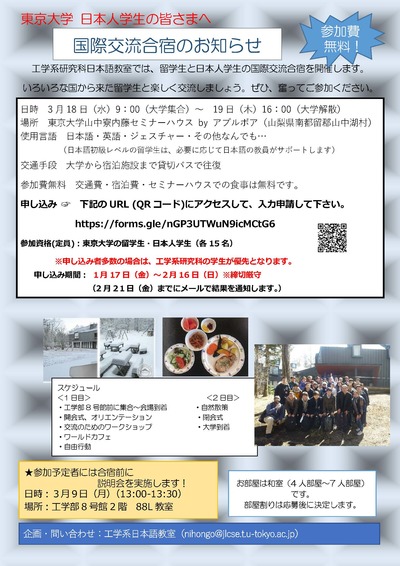 Date : March 18 (Wed) 9:00 - March 19 (Thurs) 16:00
Venue : Naito Seminar House (Yamanaka Lake, Yamanashi Prefecture)
Language : Japanese, English, etc… of course, gesture, too! 
(Japanese language instructors from JLCSE will help you)
Transportation : Chartered bus between Hongo campus and Seminar House
How to apply? Please access the following URL or QRcode:
       https://forms.gle/PPRH5SUTWauuMTHE7
Applicant's Qualification : International and Japanese students of U-Tokyo (15 persons each)  
※ If the number of international applicants exceeds the quota, the first priority is given to the new students of JLCSE Fall 2019.
Application deadline : February 16th (Sun)
(You will get the reply by E-mail from JLCSE until February 21th)
We are looking forward to your application.