2018.10.19
Australia-Japan: Science & Technology Diplomacy and Public Policy Forum
The Australian National University and the University of Tokyo have joined together to lead a forum on Science Diplomacy and Public Policy in Tokyo on November 5 2018.
The forum brings together researchers, the public sector and business community to discuss the links between scientific collaboration and diplomacy and the role of scientific advice to government.
It will also present examples of active collaborations that address some of the big public policy issues of our times including geohazards and disaster management, climate change and energy and the appropriate use of game-changing new technologies.
The forum will be a platform for facilitating links between scientific research, business-university relationships and the development of strong evidence-based public policy. As part of the Australia Now program in Japan the forum is designed to showcase Australian expertise in scientific research, innovation and public policy and the depth and breadth of Australian-Japanese collaboration in science.

Date & Time: 9:00 - 19:00 November 5, 2018
Venue: Koshiba Hall, Hongo Campus
Registration: https://www.eventbrite.com.au/e/australia-japan-science-diplomacy-and-public-policy-tickets-49827538509
**Flyer attached.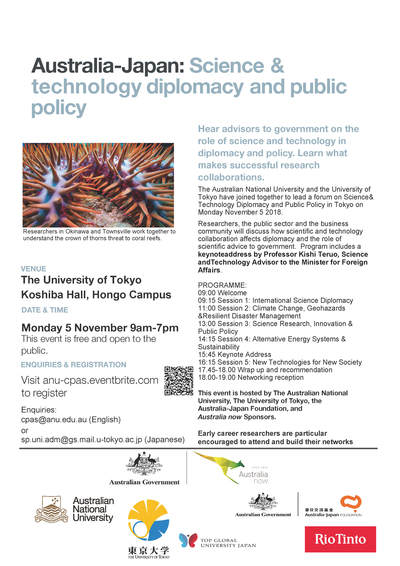 Enquiries:
Management Planning Department
03-5841-0851
sp.uni.adm@gs.mail.u-tokyo.ac.jp