TOPICS
Tatsuki Yotsushima (M2 at that time), Department of Systems Innovation, received The Logistics Research Encouragement Award
On 1st March 2023, Tatsuki Yotsushima (M2 at that time), Department of Systems Innovation, received The Logistics Research Encouragement Award.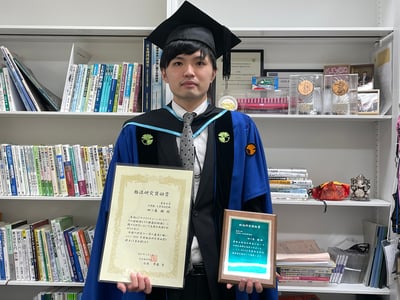 The Logistics Research Encouragement Award
The Logistics Research Encouragement Award, awarded by the Japan Logistics Society, is given to outstanding young logistics researchers who have achieved particularly outstanding results enrolled in educational and research institutions to which at least three regular members of the Japan Logistics Society belong.
About awarded research
This study developed a time-series supply chain network (SCN) using global inter-firm transaction data and clarifies the robustness and structural characteristics of the SCN. Besides, robustness of the network to various risk events and the aspects of functional deterioration were identified. We also found the conditions to enhance the functional sustainability of supply chain, and contributed to the formulation of strategies that firms should take in response to risks. As one of the risk events, we consider the US-China trade friction and analyzed a case in which all semiconductor transactions between the US and China were disrupted. In addition, we proposed a new indicator of network overlapping rate as a method for creating time-series SCNs.
Your impression & future plan
I would like to express my deepest gratitude to Dr. Kawasaki and all those who supported me in receiving this award. I am proud to receive such a prestigious award in recognition of my research activities and achievements during two years in the master's course. In the Kawasaki Lab, I have had diverse, unique, and fulfilling experiences, such as daily research activities, readings, seminars, submitting papers to journals, presentations at international conferences, and joint seminars with other universities. Although I will be leaving the university, I will continue to make efforts to contribute to society.