TOPICS
Karn Changsorn (D2), Department of Bioengineering, received Excellence Award, Exploratory Research Poster Session
On 4th November 2022, Karn Changsorn (D2), Department of Bioengineering, received Excellence Award, Exploratory Research Poster Session, 60th Annual Meeting of the Japanese Society for Artificial Organs (JSAO).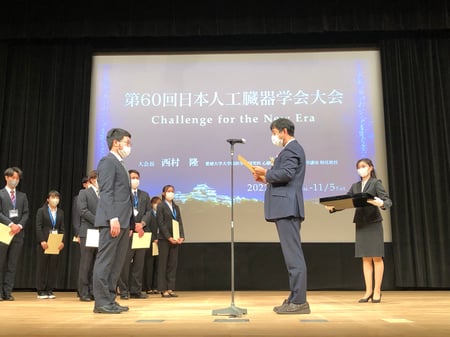 Excellence Award, Exploratory Research Poster Session
The award is given to the presentations of young researchers, physicians, medical staff such as clinical engineers and nurses, and students under 30 years of age, which are considered to be excellent as a result of the vote by the jury, and which are not sufficiently complete to be considered as general research, but which are related to exploratory research that is expected to make a high clinical or academic contribution in the near future.
About awarded research
Islet transplantation is a promising alternative treatment for type I diabetes mellitus. However, sustained function remains insufficient due to the lack of vascularization. Tissue engineering provides potential strategies to fabricate such a vascularized tissue construct, but many approaches often yield limited control over geometry and cell density. To address this issue, bioprinting is utilized to fabricate flow channel-incorporated pancreatic tissue. Free-form microgel-based support bath printing technique allows the accurate printing of a 3D flow network construct in a mild and biocompatible condition. While allowing the printing, the support bath matrix also retained functionality of beta cell aggregates and endothelial cells over 2 weeks of culture.
Your impression & future plan
Further studies are needed to combine both the flow channel and cell functionality, which could be further evaluated regarding as a functionalized, vascularized pancreatic tissue. This study built up towards fabrication of high-density, vascularized pancreatic tissue for islet transplantation and functionalized tissue for in vitro disease model.