TOPICS
Tokyo Forum 2022 (Dec 1-2 @ Yasuda Auditorium)
The University of Tokyo will be holding "Tokyo Forum 2022" on Thursday, December 1 and Friday, December 2, 2022. For details, please click the following link.
Forum Website: https://www.tokyoforum.tc.u-tokyo.ac.jp/ja/index.html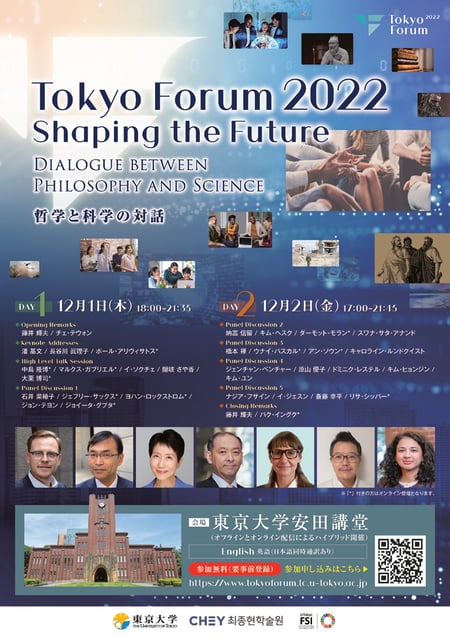 Theme
"Tokyo Forum 2022" will focus on "Dialogue between Philosophy and Science: In a World Facing War, Pandemic, and Climate Change".
In the face of war, a pandemic, and climate change, we cannot repeat the history of the last century, in which our ancestors headed down the road to division, global conflict, and environmental destruction. Philosophy of the 21st century must contribute to the construction of a new universality based on locality and diversity. Science in the 21st century also needs to dispense with its overarching aura of supremacy and lack of self-criticism.
How can we live more fully and how do we find a new common understanding about what our society should be?
Tokyo Forum 2022 will tackle these questions through a series of in-depth dialogues between philosophy and science.

Event Details
Date: Thursday, December 1 and Friday, December 2, 2022
Time: December 1 @ 4:00-09:35 (EST); 9:00-12:35 (GMT); 18:00 –21:35 (JST)
December 2 @ 3:00-09:45 (EST); 8:00-12:45 (GMT); 17:00 –21:45 (JST)
Venue: Yasuda Auditorium, The University of Tokyo (both in-person and live streaming)
Language: English (simultaneous interpretation in Japanese available)
Admission: Free
Registration: Required https://www.tokyo-forum-form.com/apply/audiences/en
Organizers: The University of Tokyo (Japan) and Chey Institute for Advanced Studies (Korea)
Inquiries to: info@tokyo-forum-form.com

About "Tokyo Forum
"Tokyo Forum" will bring together experts from diverse backgrounds to freely exchange information and opinions on issues facing society and our planet, while seeking out and proposing viable solutions. This forum is an annual event, which was launched in 2019 with the overarching theme of "Shaping the Future.".