TOPICS
Young Faculty:Associate Professor Kazuki Fukushima
Young Faculty / 055
Associate Professor Kazuki Fukushima, Department of Chemistry and Biotechnology, Takashi Kato Group.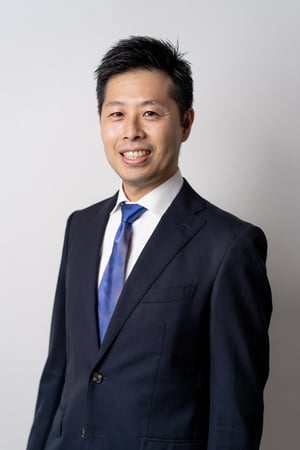 <Biography>
Ph.D., Engineering, Kyoto Institute of Technology (Kyoto, JAPAN), 26th March 2007
Thesis title: "Stereocomplexed poly(lactic acid)s as high-performance bio-based polymers"
Advisor: Professor Yoshiharu Kimura

RESEARCH EXPERIENCE
07/2018-present, Associate Professor, School of Engineering, The University of Tokyo
04/2016-06/2018, Assistant Professor, Graduate School of Organic Materials Science, Yamagata University
09/2011-03/2016, Assistant Professor, Graduate School of Science and Engineering, Yamagata University
04/2009-09/2011, Postdoctoral Researcher (an exempt supplemental employee), IBM Almaden Research Center
04/2008-03/2009, Postdoctoral Researcher, Department of Chemistry, Stanford University
06/2007-03/2008, Visiting Researcher, Department of Chemistry, Stanford University
06/2007-03/2008, Research Fellow of Japan Society of the Promotion of Science (JSPS)
01/2006-05/2006, Visiting Scholar, Department of Chemistry, Boise State University

<About the Research>
Development of Functional Materials based on "Degradation"
Plastic and polymeric materials are used everywhere in our lives, while they cause global environmental problems such as marine plastic pollution, use of fossil fuel, and CO2 exhaust. However, we cannot maintain our modern life without plastics. Thus, sustainable materials derived from non-fossil and renewable resources and degradable materials and recycling are now investigated worldwide.
My research includes developing functional materials based on degradable polymers and applying depolymerization chemistry towards recycling and upcycling to convert waste plastics to high-value materials.
(Bio)degradable polymers represent polymers that can be degraded into oligomers that are further broken down into CO2 and water in the natural environment and body. Typically, poly(lactic acid)s derived from starch sources such as corn and other carbohydrates are famous. We address the synthesis of various degradable functional polymers by introducing functional side groups as "branches" of such degradable backbones. Applications in biomaterials such as drug delivery, artificial blood vessels, stents, and antimicrobials have been our primary scope of such functional degradable polymers. We are now working on their applications towards green and sustainable materials, proceeding with the development of functional degradable polymers using renewable resources as a starting material.
From the viewpoint of a circular economy, it is also essential to exploit existing petroleum-based plastics. Recently, "upcycling" to convert waste into high-value materials draws keen attention, along with recycling that closes the material cycle. We have addressed the upcycling of poly(ethylene terephthalate) used in beverage bottles to provide various terephthalamides with reactive ends and rigid aromatic structures. They are promising as aromatic feedstocks for a broad range of applications to building blocks of high-performance materials.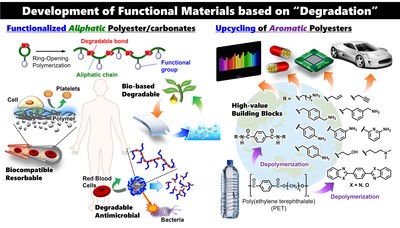 <Future aspirations>
More highly functional and smarter materials could be obtained by fusing degradable functional polymers and upcycling, and incorporating self-assembly and molecular alignment technique. We would like to contribute to the building of a sustainable society through these studies.

<WEB>
Lab : http://kato.t.u-tokyo.ac.jp/index.html