TOPICS
Opening Remarks April 1-2, 2021
I am Takao Someya, Dean of the Faculty of Engineering. On behalf of the faculty, I wish to congratulate students beginning their third-year studies and welcome you to Hongo Campus!
Last year, the spread of an infectious diseases changed the style of learning on campus. All lectures suddenly becoming online must have caused confusion. It was truly a challenging time; friends and colleagues could not meet face-to-face in classrooms and extracurricular activities on campus were restricted.
Starting this April, the university introduces a new form of learning different from what you experienced last year. Education conducted face-to-face and online each have their advantages. We will seek the best combination of the two to maximize educational effect according to each field of studies. The best solution cannot be achieved solely by the educator. I invite students to join in an attempt to create the world's best engineering learning through trial and error.
As we seek this new style of learning, the Faculty of Engineering gives emphasis to face-to-face, for engineering is not only a search for truth, but also an academic system in search of the solution of social issues. Just learning theories online does not bring you in touch with actual challenges. During this difficult time, I would like each of you to think about the pains in society as your own and contemplate on what engineering can do to solve them. There are many social issues that engineering needs to address. In addition to measures against infectious diseases, we must face an aging society, respond to large-scale natural disasters caused by climate change, and achieve a decarbonized society. To face these challenges, making use of comprehensive knowledge of universities beyond the boundaries of engineering is necessary, not to say strengthening fundamental science skills.
A full-fledged specialized education will begin here in Hongo. While pursuing your major, please acquire the ability to connect with people and fields beyond your own. Listen to the opinions of others with diverse values and expertise, and look upon society with a broad view. I call upon you to create a technology of our dreams that can produce a better society together. All faculty and staff are prepared to support students to make their lives more fulfilling.
Finally, I welcome you as a member of the world of engineering.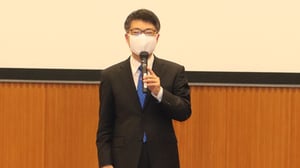 Dean of Engineering to greet with guidance