TOPICS
Project Research Associate Jie Qi was selected for the permanent design collection of MoMA in NY
On 21st October 2019, The Museum of Modern Art (MoMA) in New York will re-open to the public. Work by Project Assistant Professor Jie Qi from Kawahara Lab, Department of Electrical Engineering and Information Systems, will be on display as part of the opening exhibition as well as part of the museum's permanent collection. The MoMA is one of the largest and most influential museums in the modern art world, housing works by giants like Picasso, Van Gogh, Kusama and Murakami in its collection.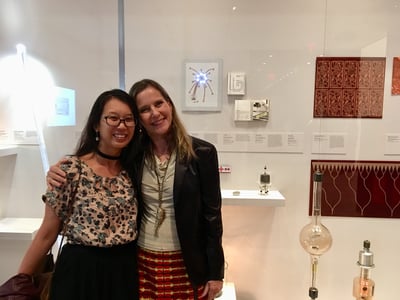 <About awarded research>
The awarded project "Circuit Stickers" are a new medium for making electronics. These thin, lightweight, flexible and sticky circuit boards allow creators of all ages and backgrounds to quickly and easily to make working electronic technologies using paper craft tools and techniques, blending engineering and art. Chibitronics, a spinoff company that produces circuit stickers co-founded by Jie Qi and Andrew "bunnie" Huang, toolkits are currently used by teachers, crafters and makers all over the world.
<Comments>
It's an honor and dream come true. It was seeing another exhibit at the MoMA, eleven years ago, called Design and the Elastic Mind that set me on my current career path. At the time I was intending to become a medical doctor, but seeing design, art, science and engineering come together opened my eyes to new possibilities.It feels amazing to be back and this time seeing my own work on the walls of the MoMA. I hope it can help inspire the next generation of engineer artists or artist engineers to see that the disciplines of science, engineering, art and design do not need to be split and to pursue their own dreams as crazy as they may seem.Seeing my work celebrated this way also motivates me to continue my research in designing tools that blend familiar mediums like paper with modern technologies like circuits and programming, as well as making examples of what these new technologies can look like through art. I hope to make technology accessible to everyone, so that we can all become technology creators rather than technology consumers. In particular, I'm interested to create tools for artists and craftspeople, especially women who are often left out, to become engineers. It's by getting these new voices and perspectives into inventing technology that we get innovations that serve everyone.