TOPICS
Riku Yamada (B3), Department of Applied Physics, earned President's award (Category: Extracurricular activities)
Riku Yamada (B3), Department of Applied Physics, earned President's award (Category: Extracurricular activities),
Presentation Ceremony for the University of Tokyo President's Award was held at Koshiba Hall on 20th March 2019.
President's Award is given to excellent students who redound to the honor of the University of Tokyo by making their significant achievements in the category of academic, extracurricular, and social activities as a role model for other students.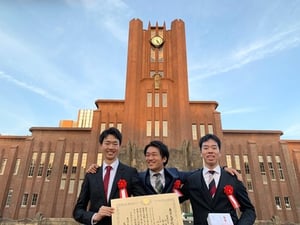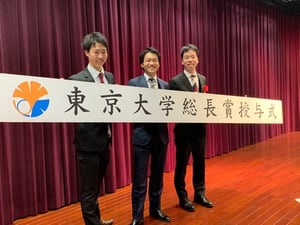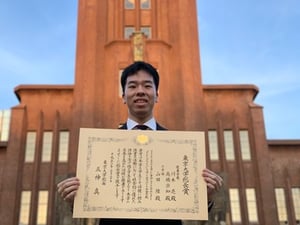 <About awarded research>
Global social contribution through the food recycling project "Grubin" using Black Soldier Fly

Content:A food recycling project called Grubin was launched, which tackles the decomposition of food residues using the larvae of black soldier fly and the feed conversion of the larvae. In Cambodia, from the perspective of improving public health, we are working to reduce and effectively use rotten garbage that causes disease such as diarrhea. Currently, in Japan, we will collaborate with several corporations and local governments and advance its social implementation from the viewpoint of the spread of recycling society. Because of its novelty and social impact, Grubin has won numerous awards, including the Japan Foundation Social Innovation Award 2018, the Hult Prize 2nd Winner, and more. The activities and social contributions that are unconventional to the university student's framework were highly regarded as a form that embodies "Discover Excellence".
<Your impression & future plan>
I am honored to have won the award and be a part of the wonderful project Grubin. I have been working on this project for over a year with two friends at department of medical. Sometimes it was hard, but always challenging, enjoyable. I am grateful to my family, friends and people who have contributed to this project. Grubin is still in the middle of the road, and I would like to further expand this project to the society and contribute to sustainable use of food.