TOPICS
Koya Narumi, Department of Electrical Engineering and Information Systems (EEIS), wins a Honorable Mention Award in ACM UbiComp 2015
On 9th September 2015, Koya Narumi, a 1st graduate student Department of Electrical Engineering and Information Systems (EEIS), wins a Honorable Mention Award in ACM UbiComp 2015. This award is given to top 5% of all the submitted papers.
< About awarded research >
In this paper, an application is implemented which can recognize and analyze hand-drawn, printed and hybrid conductive ink patterns with commodity tools like tablet or PC. Recent advances in materials science have resulted in a range of commercially viable and easy-to-use conductive ink pens which novices, hobbyists, educators, students and researchers are now using to design and build interactive circuits quickly. Despite the ease with which practitioners can construct working circuits, one of the major limitations of designing circuits on-the-fly is the difficulty of detecting and understanding errors in prototype circuits. Using this application, one can realize the design routine of: (a) draw with a conductive ink circuits, (b) finding mistakes using a tablet, (c) modifying the circuit with conductive ink pen and conductive ink eraser (d) iteration of these trial-and-error processes.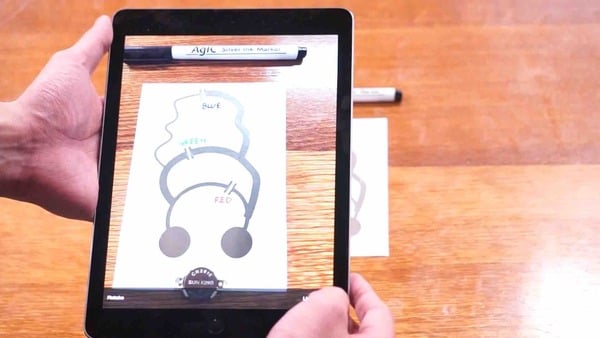 < Comments >
I would like to thank Prof. Yoshihiro Kawahara and Prof. Steve Hodges, who gave me many pieces of advice and encouragement. I am also grateful to the members of Asami Kawahara Lab., Prof Hiroshi Onodera,and Prof. Takao Someya to help me write this paper.