Faculty of Engineering Organization
The Faculty of Engineering is responsible for undergraduate education. The Faculty of Engineering currently has sixteen departments. The majority of faculty members responsible for undergraduate education are affiliated with the Graduate School of Engineering, the Graduate School of Information Science and Technology, the Graduate School of Frontier Sciences, and the University of Tokyo Interfaculty Initiative in Information Studies and Graduate School of Interdisciplinary Information Studies.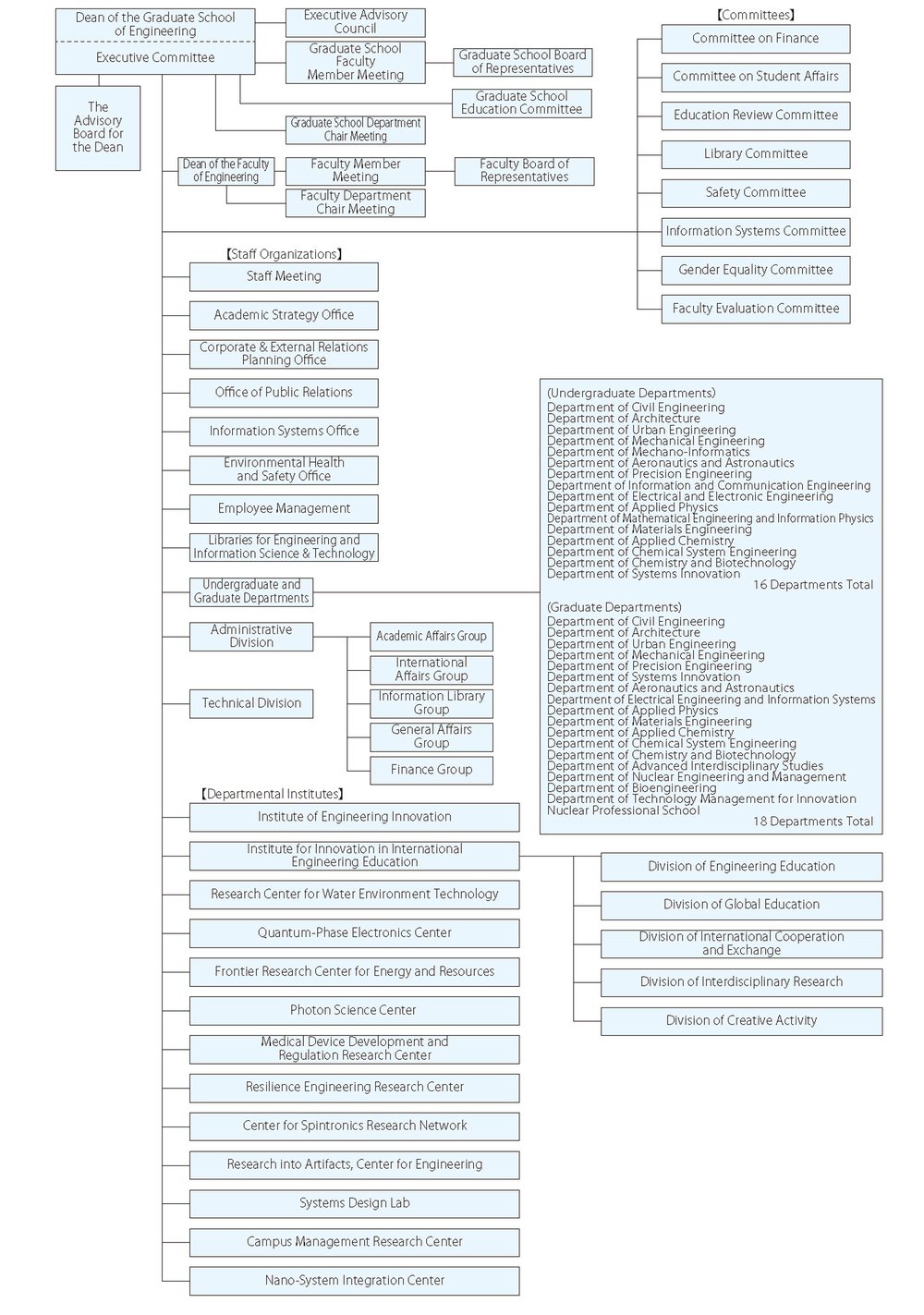 Education in the Faculty of Engineering
For detailed information on each department, pleases refer to Departments
For information on faculty members, please refer to Faculty Members.
Governance and Management
The highest decision-making body in the administration is the Faculty of Engineering Faculty Council, and the Council of Department Heads is under the Faculty of Engineering Dean in order to streamline deliberations and stimulate discussion.
Technical Staff Organization and Technology Department
To cope with changing technical staff roles as education and research at the university level became increasingly sophisticated, the technical staff underwent systematization and the Technology Department was established in 1990 pursuant to "The University of Tokyo Key Points Regarding the Organization and Management of the Technical Staff". The Technology Department includes eight sections: Material Structure, Equipment Development, Mechanical and Thermo-Fluid Experiments, Process Maintenance, Information Management, Information Processing, Analysis and Measurement, and Systems, and each section is further divided by function. The Technology Department staff is made up of a department head (comparable to a research department vice dean), technology heads, technology team leaders, technology senior staff members, full-time technical specialists, and technical specialists. Designated training programs have been established, and more than ten designated training programs are carried out each year. Furthermore, an annual technology presentation assembly serves as a platform to showcase technical staff member research accomplishments. The Technology Department staff plays a central role in the management of all of these.