2014.12.08
Report: Dean's Meeting, School of Engineering
Report: Dean's Meeting, School of Engineering
 On Thursday, October 16, 2014 at 10 AM, the Deans of the School of Engineering met in the conference room of the Engineering Reppinkan. The event was carried out in the autumn of the inauguration of the new Dean of the School of Engineering.
After an opening address and an introduction to the current state of the Faculty of Engineering, Dean Mitsuishi provided an explanation of the key objectives and the focuses of the School of Engineering and Research. Aiming to "realize a society full of vitality through engineering research and educational developments," he called for advancement in research abilities and the improvement of international visibility and strengthening of the management system of the graduate school. He also described cooperative efforts with the three vice deans. Additionally, as part of a new framework, he introduced the established resilience engineering research center, the medical welfare engineering development evaluation research center, COI (living and prospering together with young people; possible continuing health care for long lived societies ~ sustainable life care, ageless societies with COI as a base), business dialogue activities, and a strategic sabbatical system.
Following this, the group took a commemorative photo in front of the Reppinkan, and then moved to the exhibition room of Engineering Building number two for a social gathering. Event Chairman Professor Kiyoshi Horikawa began the gathering with a toast, and described in sincere, encouraging detail about working toward expectations for the Graduate School of Engineering along with the other participants.
Regardless of the fact that the meeting was nearly three hours, after a very dense and deep meeting, Dean Sakai of the Graduate School of Information Science and Technology gave a closing address, describing the value of a consciously pursuing a broad, universal perspective.
Event Participants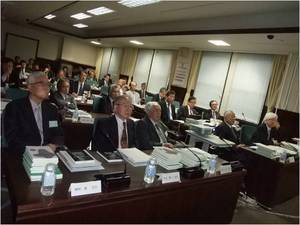 Address by Professor Kiyoshi Horikawa