TOPICS
Ayumi Goto (B4), Department of Chemical System Engineering, received SCEJ 88th Annual Meeting Student Encouragement Award
On 16th March 2023, Ayumi Goto (B4), Department of Chemical System Engineering, received SCEJ 88th Annual Meeting Student Encouragement Award.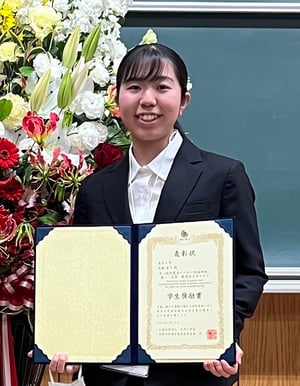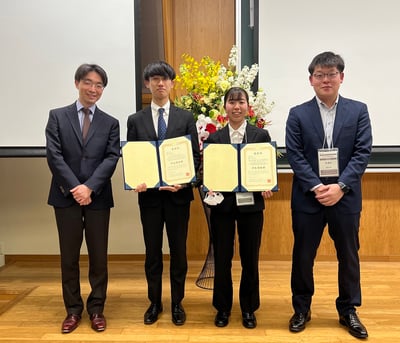 SCEJ 88th Annual Meeting Student Encouragement Award
Among poster presentations by students, the research and presenters were comprehensively evaluated by industry, academia, and government judges, and were awarded to those who were in the top 5% of all the presenters.
About awarded research
Personalized tablet manufacturing can provide more effective medicines with fewer side effects. In our research group, a table-top tablet manufacturing machine is under development. Unlike industrial manufacturing, the table-top machine produces one tablet at a time, and should handle various formulations. Several studies identified process and material conditions to achieve a predetermined quality. However, these are limited to specific formulations. Therefore, toward application to any powder and formulation, I developed new models to predict manufacturability and quality of tablets based on the properties and process conditions.
Your impression & future plan
I would like to express my gratitude for the support of the members of our laboratory and the joint research companies that have helped me to advance this research. I am very honored to have been able to present the results of my research at the conference and to receive this award. I would like to continue to work hard on my research encouraged by this award.