TOPICS
Professor Ritsu Dobashi received Japan Society of Safety Engineering, Kitagawa Academic Award
On 25th May 2021 , Professor Ritsu Dobashi, Department of Chemical System Engineering, received Japan Society of Safety Engineering, Kitagawa Academic Award.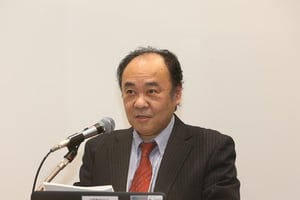 〈Name of award and short explanation about the award〉
The Kitagawa Academic Award was established in 1984 to honor academic contributors in the field of safety in commemoration of the late Dr. Tetsuzo Kitagawa, former professor at Yokohama National University, who was the founder of the Japan Society of Safety Engineering and contributed to the development of the Society as vice president and president for many years.

〈About awarded research〉
Professor Dobashi (Department of Chemical Systems Engineering) has been awarded the 2021 Kitagawa Academic Award. Prof. Dobashi has been conducting researches in the areas of safety engineering, combustion science, and fire science. In particular, his researches on the interaction between flames and swirling flows (research on fire whirlwinds), the instability of large scale propagating flames (research on gas explosions), and flame propagation in heterogeneous combustible media (research on dust explosions), have produced outstanding academic results that are also useful for the advancement of safety technology. His researches also have attracted worldwide attention, and he was selected as the winner of the Kitagawa Academic Award.