TOPICS
Young Faculty:Lecturer Tomohiro Tobino
Young Faculty / 018
Lecturer Tomohiro Tobino, Environmental Risk Management & Quality Control Technology Lab, Department of Urban Engineering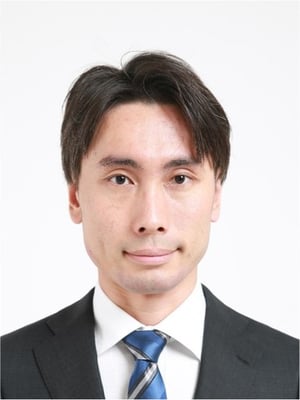 <Biography>
Mar. 2006 B.S., Department of Urban Engineering, Faculty of Engineering, The University of Tokyo
Mar. 2008 M.S., Department of Urban Engineering, Graduate School of Engineering, The University of Tokyo
Mar. 2011 Ph.D., Department of Urban Engineering, Graduate School of Engineering, The University of Tokyo
Apr. 2011 Project researcher, Environmental Science Center, The University of Tokyo
Apr. 2014 Assistant professor, Environmental Science Center, The University of Tokyo
Apr. 2018- Lecturer, Department of Urban Engineering, Graduate School of Engineering, The University of Tokyo
<About the Research>
Microbes (bacteria and archaea) in environments harbor a vast diversity of functions that play crucial roles in the elemental flows at every scale from an animal body to the global environment. Their functions are also utilized in our urban lives. Activated sludge, the current my research focus, is one such example. Activated sludge is slurry-like liquid containing suspended microbial aggregates, or flocs, consisting of diverse microbes and widely applied for the treatment of wastewater from households and industries. Variety of pollutants present in the wastewater is degraded by the help of microbes in the sludge before returned into the environment. Since its advent about 100 years ago, the principle of the activated sludge process has not changed to date, proving itself as an excellent and robust engineering process.
Functions of individual microbes, the main actors of activated sludge, and their interactions are, however, not fully understood yet. While the process control has been established through empirical try-and-error, the understanding of process performance from the microbial ecology usually follows after and remains unanswered.
Quorum sensing, a system of microbes to deliver information between cells via signaling compounds, has been recently reported to exist in the activated sludge and have something to do with process performance. I'm now working on membrane bioreactors, a derivative of activated sludge process, and trying to unveil the roles of quorum sensing in the development of membrane fouling. Detection and exploration of signaling compounds using the state-of-the-art mass spectrometry as well as genetic analyses (metagenome and transcriptome) of quorum sensing-related genes in activated sludge are my current topics. I'm expecting that the understanding of when and how quorum sensing regulates which function of activated sludge will bring us a new advancement in the process control.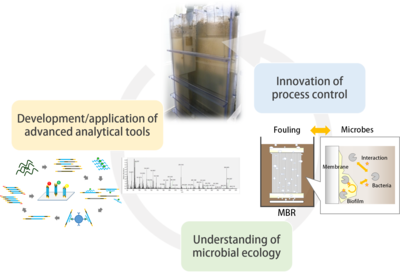 <Future aspirations>
Biological water and wastewater treatment is a field uniting microbiological ecology and engineering application. I'd like to pursue in-depth understanding of microbial ecology via the state-of-the-art analytical technologies, together with utilization of sensing technologies as well as machine learnings and AI towards the advancement of water and wastewater treatment processes and systems.
Environmental Risk Management & Quality Control Technology Lab:http://envrisk.t.u-tokyo.ac.jp/hp/top-e/