TOPICS
Teiyukai RoboTech won 2018 NHK Student "Robocon" Championship and earned Best shuttlecock Award
10th June 2018, Teiyukai RoboTech won 2018 NHK Student Robocon (Robot competition) Championship and earned Best shuttlecock Award.
<Name of award and short explanation about the award>
2018 NHK Robocon: Robot competition 
Champion
Shuttlecock Award : the prize of the best Shuttlecock to the team designing the most beautiful and impressive shuttlecock
<Members>
Yoichiro Kawamura, Engineering, Mechano-Infomatics, Junior
Kento Yabuuchi, Engineering, Mathematical Engineering and Information Physics, Junior
Yuchi Yahagi, Engineering, Information and Communication Engineering, Junior
Yugo Inutsuka, Science, Physics, Junior
Shoki Hattori, Engineering, Aeronautics and Astronautics, Junior
Fumiya Hanamura, Science, Physics, Junior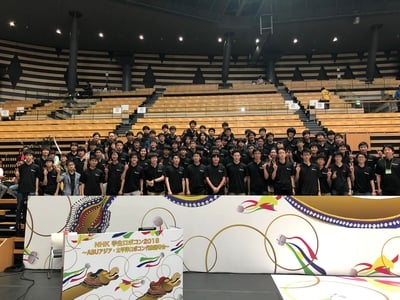 <Comments>
At the domestic contest (NHK Student Robocon 2018), our robots showed outstanding stability even as extreme movement speed, however, behind the games, we faced series of troubles. Though the situation was tough, we dealt with each problems as a team and solve them quickly. As a result, our team showed the best performance through the game and won the contest. We are extremely happy to get a ticket to the international contest (ABU Asia-Pacific Robocon 2018) and to get a chance to challenge for the world. Looking ahead in the future, we will improve the throwing performance of the shuttlecock and further shorten the time to achieve the competition task.