TOPICS
Kazuya Sugimoto, Department of Precision Engineering, and other researchers win a FA Foundation Best Paper Award
On 9Th December 2016, Mr. Kazuya Sugimoto, Assistant professor Hiromitsu Fujii, Associate Professor Atsushi Yamashita, Professor Hajime Asama, Department of Precision Engineering, wins a FA Foundation Best Paper Award.
FA Foundation Best Paper Award aims to promote the research activities and development of human resources with regards to factory automation, industrial robots and the technologies for them. The award is honoring the authors whose papers have high originality and industrial values.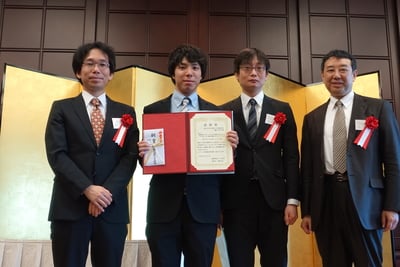 <About awarded research>
We developed an image presentation system for robotic remote-control and factory automation. The system can show the semi-transparent images that can see-through the background of obstacles in front of the robots. It has some advantages such as low-cost, high-resolution and high frame rate.
In the sites of robotic applications such as FA and the remote control, obstacles shown on the images obtained by the robot eye often become troublesome problems. For example, arm robots cannot approach targets because themselves occlude the view of the camera. We solved the problem by using multiple cameras and depth sensors complementarily.
<Comments>
It is my pleasure to have this honorable award. I am thankful to collaborators of our research. Our research group intends to continue to develop the system, hoping that our results will contribute to the society.