TOPICS
Shinji Kondo, Department of Bioengineering, wins a Student Poster Competition Award at The 2015 International Chemical Congress of Pacific Basin Societies
On 18th December 2015, Mr.Shinji Kondo, Department of Bioengineering, wins a Student Poster Competition Award at The 2015 International Chemical Congress of Pacific Basin Societies.
This award was offered to students who gave an excellent poster presentation at 2015 International Chemical Congress of Pacific Basin Societies in December, 2015. In the student poster competition, 54 winners were selected out of 3645 applicants.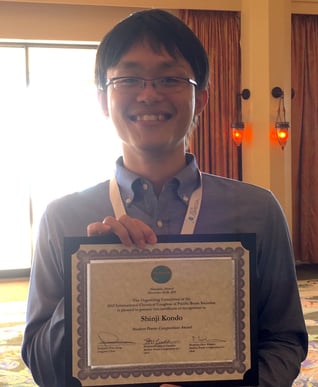 <About awaeded research>
Gels are soft materials composed of a 3D polymer network that contains solvent. Since their component is similar to that of soft tissues, gels are regarded as promising structural materials for regenerative medicine. However, conventional gels are not reliable enough for use as structural materials, because they suffer sudden breakage when exposed to repetitive load. In this study, we for the first time developed a new gel with plastic properties by uniformly introducing hydrophilic and hydrophobic polymer segments. We found that our new gel maintains its strength and flexibility for a long period of time. In an aqueous environment, the uniformly distributed hydrophobic segments form aggregates, reinforcing the main network of the gel. When the gel is subjected to an external force, the aggregates preferentially break prior to the breakage of the main network, resolving the local stress concentration. In the fatigue tests in water, our new gel endured 3-fold 100-cycle stretching tests without damage accumulation. The new material should find applications in challenging environments such as load-bearing medical implants including artificial muscle and cartilage or discs for artificial knee joints that are exposed to repeated stretching and bending.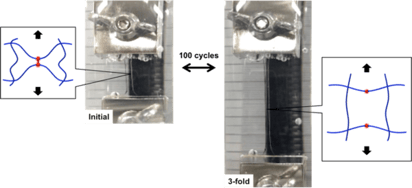 <Comments>
It is a great pleasure and also encouragement for me to receive a poster award with recognition of my research at such international conference. I would like to express my sincere gratitude to Prof. Ung-il Chung and Prof. Takamasa Sakai for their continuous support. I will continue to push forward my research toward the application of hydrogels in human body.