2014.12.24
Tatsuya Asami, Department of Urban Engineering, wins Award for Asian Young Professional on Water Research
Tatsuya Asami, Department of Urban Engineering, wins Award for Asian Young Professional on Water Research.The Award is given every year to distinguished young professionals (less than 40 years old) who demonstrated the most outstanding and promising performance in the symposium.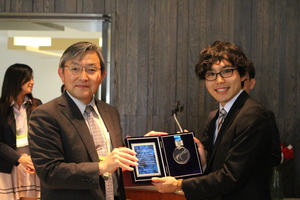 Recently, much attention has been paid to QMRA (Quantitative Microbial Risk Assessment) as a promising tool to manage the microbial safety of drinking water. To perform QMRA, data on the concentration of pathogens in the drinking water source, removal efficiency during water treatment processes, the amount of exposure via consumption of tap water and so forth are required. Nevertheless, the data on virus removal efficiency at a treatment plant scale has been lacking due to the low concentration of viruses in the environment and/or the technical difficulties in measurement processes.This study succeeded in quantifying the virus removal efficiency in an actual water treatment plant in Bangkok, Thailand by concentrating large volumes of water and targeting pepper mild mottle virus and JC polyomavirus, both of which have been reported to be prevalent in environmental waters. 
I deeply appreciate my advisors Dr. Katayama and Prof. Furumai, our collaborator Prof. Visvanathan (Asian Institute of Technology), our lab members, and the staff members of the water treatment plant.This award has encouraged me to explore new avenues of research towards completing my master's degree.