2014.10.14
Kouhei Soda in the Department of Nuclear Engineering and Management, won a Best Presentation Award in the ASME Pressure Vessels & Piping Conference (ASME PVP2014) Student Paper Symposium Session
Kouhei Soda in the Department of Nuclear Engineering and Management, won a Best Presentation Award in the ASME Pressure Vessels & Piping Conference (ASME PVP2014) Student Paper Symposium Session.ASME PVP 2014 is one of the largest international conference in structural engineering field, organized by American Society of Mechanical Engineers.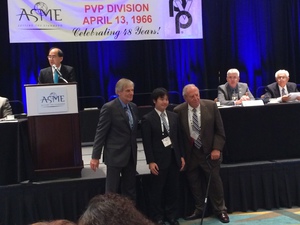 Authors proposed thermal stress evaluation method induced by thermal stratification oscillation, which is one typical failure causes in Nuclear Power Plants. This method will enable precious fatigue evaluation for thermal stratification oscillation based on thermal stress.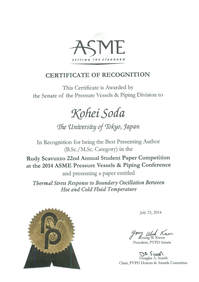 It is my great honor and pleasure to receive this award among international students. I would like to appreciate Prof. Kasahara and all who supports my research. I will continue to do my best in my research.