2018.02.14
A secondary RET mutation in the activation loop conferring resistance to vandetanib through allosteric effects:Project Assosiate Professor Satoru Nagatoishi, Department of The Institute Medical science, UTokyo, Professor Kouhei Tsumoto, Department of Chemistry and Biotechnology, and other researchers.
TOKYO, Japan (February 14, 2018) –The National Cancer Center, Kyoto University, RIKEN, the Francis Crick Institute and other institutions today announced elucidation of a novel mechanism underlying acquired resistance to RET tyrosine kinase inhibitor (TKI) in lung cancer.
Lung adenocarcinoma is the most common type of lung cancer worldwide, with incidence and mortality rates increasing in both Asian and Western countries. Oncogenic fusions of the RET kinase gene are present in 1‒2% of LADCs. RET fusion is a target for the treatment using clinically active RET tyrosine kinase inhibitors (TKIs) such as vandetanib. However, the mechanisms underlying acquired resistance to RET TKIs in lung cancer patients had been unknown.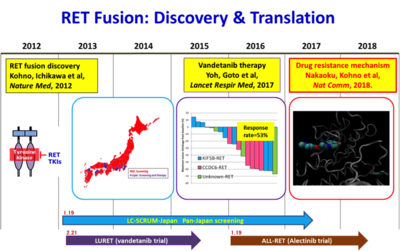 Press Release: /shared/press/data/setnws_201802141408399371342602_995003.pdf
Nature Communications: https://www.nature.com/articles/s41467-018-02994-7 
National Cancer Center Japan: https://www.ncc.go.jp/en/information/press_release/20180214/index.html