TOPICS
Sien Liu (D3), Department of Materials Engineering, received Best Poster Award, 1st Place at the MS&T22
On 12th October 2022, Sien Liu (D3), Department of Materials Engineering, received Best Poster Award, 1st Place at the MS&T22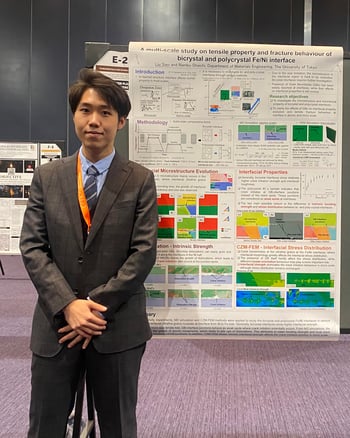 Best Poster Award, 1st Place (MS&T22)
This award is given to the 1st place of material advantage graduate student poster presentation competition at the Materials Science & Technology 2022 Technical Meeting & Exhibition (MS&T22).
About awarded research
"A multi-scale study on tensile property and fracture behaviour of bicrystal and polycrystal Fe/Ni interface"
Recently, multilayered steel (MLS) attracts more attentions due to its unique advantage to combine high strength and ductility, where interface plays a significant role. However, previous studies showed that the interface is influenced by various factors in multiple scales, which requires a novel study by multi-scale methods. In this study, we applied both experimental and MD and CZM-FEM simulation methods to investigate the influence of pre-existing grain boundaries (GBs) on interface in meso- and atomic-scales. It was found that the interface-GB junctions behave as weak spots in tensile separation, while the simulation results indicated that weak intrinsic bonding and stress concentration are the main reasons.
Your impression & future plan
It is my great honour to receive this award and the recognition from my peers for my novel study. It encourages me to work even harder to pursue more academic contributions. Also, I would like to express my deep gratitude to my supervisor Prof. Shoichi Nambu, our lab members, and everyone who supported me in this study.
URL: http://materialadvantage.org/material-advantage-blog/mst22-award-winner-announcements