TOPICS
Hiroshi Wakabayashi (M2), Department of Chemical Systems Engineering, received Best Poster Award from The 17th ILCAJ Symposium
On 4th March 2022, Hiroshi Wakabayashi (M2), Department of Chemical Systems Engineering, received Best Poster Award from The 17th ILCAJ Symposium.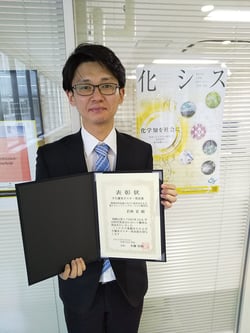 Best Poster Award from The 17th ILCAJ Symposium
It was given for the superior presentation at poster session of the symposium.

About awarded research
・Title
Typology of sharing services to support decision-making for reducing environmental impacts
・Research
Sharing services could reduce the number of products needed in the society because multiple consumers can access to a single product. Therefore, there is a potential in reducing the environmental impacts.
There have been many studies dealing with the environmental impacts of sharing services. However, most of them consider a sharing service of a particular product, and the conditions for reducing environmental impact vary from product to product.
Therefore, it is necessary to systematically categorize the conditions under which sharing services can reduce environmental impacts with product features. In this study, I clarified the relationship between product features, consumer behavior and service forms. As a result, I organized the factors that increase the environmental impacts and identify the product features that are common to them. Based on this research, I believe that this will lead to the identification of products that can easily achieve environmental load reduction through sharing services.

Your impression & future plan
I am very honored to receive this award. I would like to express my deepest gratitude to Prof. Masahiko Hirao for his research guidance and to all the members of my laboratory.