TOPICS
The WET Excellent Presentation Award
The WET Excellent Presentation Award
〈Name of award and short explanation about the award〉
The WET Excellent Presentation Awards are given to outstanding presentations at Water and Environment Technology Conference.

・Ph.D, Poopipattana Chomphunut, Department of Urban Engineering.
〈About awarded research〉
In order to protect the water quality in Odaiba coastal area, a famous location for recreational activities, the impact of combined sewer overflow (CSO) pollutants need to be understood.
We developed the 3D water quality model which predicts fate of E. coli as microbial marker and compounds in the group of Pharmaceuticals and Personal Care Products (PPCPs) as chemical markers representing the diffusion of CSO pollutants. The model was evaluated through comparison with field measurements. It was found to be useful to evaluate fecal contamination in the coastal area.
〈Your impression & future plan〉
I am thankful for the support to do this work. I will continue to do research which involves solving issues related to water environment.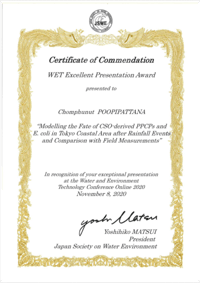 ・Yu Tosaka (M2), Department of Chemistry and Biotechnology

〈About awarded research〉
Recently, the threat of pathogenic microorganisms such as viruses has been increasing. In order to remove pathogens and obtain safe water, we have prepared nanostructured liquid-crystalline membranes with ordered nanochannels by utilizing the self-assembly of liquid crystalline molecules. They have achieved a high virus rejection rates over 99.9999%. In this study, we prepared mutated viruses with different surface charges and evaluated the virus removal performance of the membranes. As a result, nanostructured liquid-crystalline membranes removed mutated viruses and original viruses more than 99.99%. This indicates that the nanostructured liquid crystalline-membrane is effective against viruses with various surface charges.

〈Your impression & future plan〉
I am really grateful to my supervisor, Prof. Takashi Kato, who has always given me a lot of guidance, Prof. Hiroyuki Katayama, who has helped me in my joint research projects, and all the people who have helped me with my work and let me enjoy my free research life as a bachelor and master student. I will never forget appreciation for all the people who have supported me up to this point, and I hope to have no regrets as a student in the master's program, and the doctoral course which will start from next year.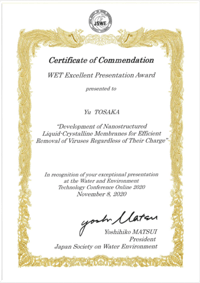 ・Ayane Itakura (M1), School of Engineering
〈About awarded research〉
In order to monitor the harmful insects and animals by eDNA analysis applying to the urban runoff water, we quantified the DNA contents of rodents and evaluated the recovery rate of rodents' excrement-derived DNA from simulated urban runoff water.

〈Your impression & future plan〉
I would like to continue my research to establish a monitoring method to prevent damage from harmful insects and animals.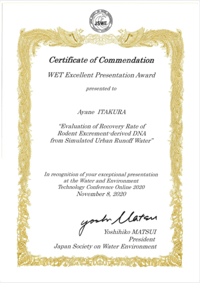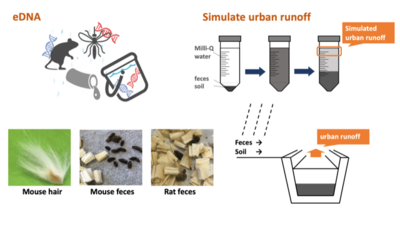 ・Shotaro Torii (M3) , Department of Urban Engineering

〈About awarded research〉
We systematically evaluated the virus concentration methods and RNA extraction methods and proposed the robust method for a variety of water quality. The optimized method was successfully applied to detect SARS-CoV-2 RNA from raw sewage in Tokyo in July 2020.

〈Your impression & future plan〉
Wastewater-based epidemiology (WBE) attracts an increasing attention to contribute to monitoring the infection status in an area or at a facility. Toward a wider application of WBE, we further try to improve the detection methods.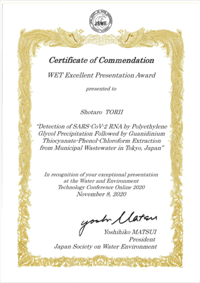 ・Ph.D, Rahmatika Iftita , Department of Urban Engineering.

〈About awarded research〉
The title of the research is "One-Year Monitoring of Microbial Regrowth and Occurrence of Opportunistic Pathogen After Stagnation in Premise Plumbing". Premise plumbing is considered as a hotspot where microbial water quality can be deteriorated. In this study, microbial water quality was evaluated from eight tap water samples in a building over four seasons in one year. Samples were obtained before and after 24 h of stagnation. The results demonstrated that water stagnation results in chlorine decay and increase of total cell counts (14-220 folds). Nanopore sequencing revealed the presence of opportunistic pathogens, such as M. gordonae, M. haemophilum, L. feeleii, L. maceachernii, and L. micdadei. This result suggests that potential health risk might increase after water stagnation in premise plumbing.

〈Your impression & future plan〉
Previous investigations demonstrated that several pathogenic bacteria, such as nontuberculous mycobacteria (NTM), was frequently detected in drinking water. NTM can expose to human through inhalation from shower or aspiration through drinking water. NTM is known as a cause of pulmonary infections and the occurrence of NTM disease in Japan is among the highest worldwide. However, the research on NTM in drinking water is still limited. In my future works as Postdoctoral researcher, I thus aim to evaluate the occurrence of NTM in drinking water in Japan and to understand the factors affecting their persistence and growth