TOPICS
Raiji Kawade (D2), Departments of Bioengineering, received Excellent poster at the Chem-Bio Informatics Society (CBI) Annual Meeting 2018
On 17th September 2018, Raiji Kawade (D2), Departments of Bioengineering, received Excellent poster at the Chem-Bio Informatics Society (CBI) Annual Meeting 2018.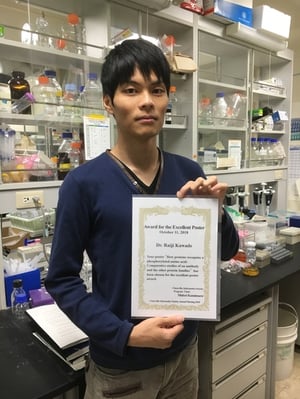 < About awarded research>
Phosphorylation plays critical roles in a wide range of cellular processes such as signaling and on/off switching of interactions.
Because of the important effects of phosphorylation on protein structure and function, the mechanisms by which phosphorylated amino acids mediate protein–protein interactions in cell have been widely investigated. However, there are only several studies focusing on the recognition mechanism by an antibody.
We performed MD simulations of 4 different proteins-phosphorylated peptide complexes both in the PO32- and PO3H- states. Our study suggested PO32- was more preferable to PO3H- in the interactions due to the larger mobility and higher amount of charge of the phosphate group in the PO32- state.
Finally, we obtained a high-affinity (~14nM) and high-selective monoclonal antibody against Ser-phospholyrated Akt, and analyzed its recognition mechanism with in vitro study and computational study. These comparison of the dynamics of the antibody and natural protein families suggests strategies to design proteins that can recognize phosphorylated amino acids.
< Your impression & future plan>
I am very honored to hear that. I very grateful for everyone's help.
With this study, I will continue my work for the engineering and designing antibodies.