TOPICS
Hina Yasuda (M2), Department of Chemistry and Biotechnology, won the Poster Award at the 65th Symposium on Organometallic Chemistry, Japan
On 10th October 2018, Hina Yasuda (M2), Department of Chemistry and Biotechnology, won the Poster Award at the 65th Symposium on Organometallic Chemistry, Japan.
This award was given to outstanding poster presentations by young scientists.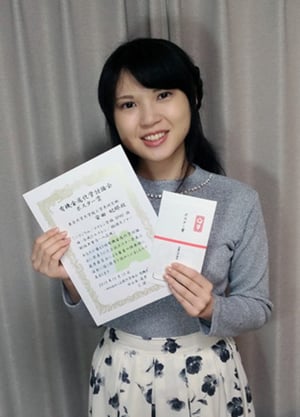 <about awarded research>
Presentation Title : Palladium/Methylene-Bridged BPMO Complexes: Synthesis and Application to Coordination Copolymerization of Ethylene and Polar Monomers




Polyethylenes are versatile plastic materials used for various applications such as container and packaging film. Due to its inherently nonpolar property, however, polyethylenes do not have hydrophilic material properties such as adhesion, printability, and compatibility. Aiming at the enhancement of such hydrophilic properties, polar functional groups need to be introduced into polyethylenes. Thus, the coordination–insertion copolymerization of ethylene with polar monomers by palladium and nickel catalysts has attracted great attention as a straightforward method for the preparation of 'functionalized polyethylene'.
In this research, we have developed novel palladium/bisphosphine monoxide (BPMO) catalysts which possess a methylene group in their backbone structure. The palladium/BPMO catalysts exhibited high efficiency of polar monomer incorporation than conventional catalysts. Various polar monomers such as vinyl acetate, acrylonitrile, allyl acetate, and methyl methacrylate were successfully incorporated to synthesize various 'functionalized polyethylene' with high efficiency.
<Comments>
It is a great honor to receive the poster award. I would like to thank Prof. Kyoko Nozaki and collaborators for their support.