2015.06.22
【Awards and Commendations】Shoma Yoshida in the Department of Chemistry and Biotechnology,won the SPSJ Annual Meeting Poster Award the award given to the person made the excellent poster presentation at SPSJ Annual Meeting
Shoma Yoshida in the Department of Chemistry and Biotechnology, won a SPSJ Annual Meeting Poster Award. This award given to the person made the excellent poster presentation at SPSJ Annual Meeting.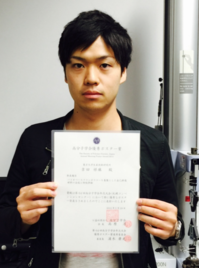 In recent years, a variety of bio-based polymer materials have been developed for reducing the environmental burdens. In particular, much attention have been paid to furan-containing polymers because these polymers can be made from non-edible cellulose. Furan-containing network polymers crosslinked with bismaleimide have self-healing ability derived from reversible Diels-Alder reaction. In this research, we copolymerized 2,5-furandimethylene succinate with propylene succinate to improve the molecular mobility of the network chains. As a result, we have successfully developed relatively high strength polymer with good healing ability under mild condition.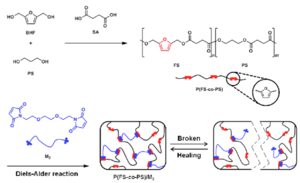 It is a great honor to receive this award. I would like to express my deepest gratitude to Prof. Naoko Yoshie and also our lab members for all of their support. I will devote myself to research in order to make greater achivements.