2020.03.18
【Awards and Commendations】Tomoaki TAKEUCHI, School of Engineering, Department of Mechanical Engineering, received The 62nd Japan Automatic Control Conference Best Presentation Award
On 16th December 2019. Tomoaki TAKEUCHI, School of Engineering, Department of Mechanical Engineering, received The 62nd Japan Automatic Control Conference Best Presentation Award
Presentation title "Control of city gas HCCI combustion using Dedicated EGR"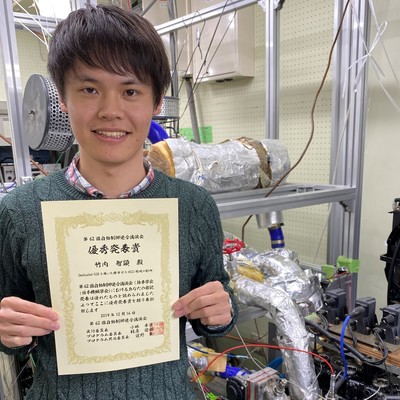 ・About awarded research
HCCI (Homogeneous Charge Compression Ignition) combustion is a high efficient combustion method. It has high compression ratio so it can achieve high efficiency, but it is difficult to control combustion because its ignition and combustion depends on chemical reaction. In order to solve this issue, we reformed fuel by rich fuel flame propagation combustion in a cylinder in the multiple cylinder gas engine, and controlled HCCI combustion by Dedicated EGR, which is the method that the reformed gas is introduced into the other cylinders.

・our impression & future plan
While environmental issues require more effective use of energy, the cogeneration system using a gas engine, which is the subject of this study, is useful because it can provide heat and electricity simultaneously and achieve high overall efficiency. On the other hand, HCCI combustion has a problem that the operation range is narrow. In the future, it is necessary to build a system that multiple combustion modes such as conventional flame propagation combustion and high compression ratio flame combustion in addition to HCCI combustion are switched and controlled according to operating conditions.