2020.03.18
【Awards and Commendations】Zhao Tingbi, School of Engineering, Department of Bioengineering,PhD student (2Y)received 2nd GLowing Polymer Symposium in KANTO Best Presentation Award
On 30th Nov 2019.Zhao Tingbi, School of Engineering, Department of Bioengineering,PhD student (2Y)received 2nd GLowing Polymer Symposium in KANTO Best Presentation Award
For outstanding results, excellent presentation and enthusiasm in research presented at the 2nd GLowing Polymer Symposium in KANTO (GPS-K 2019)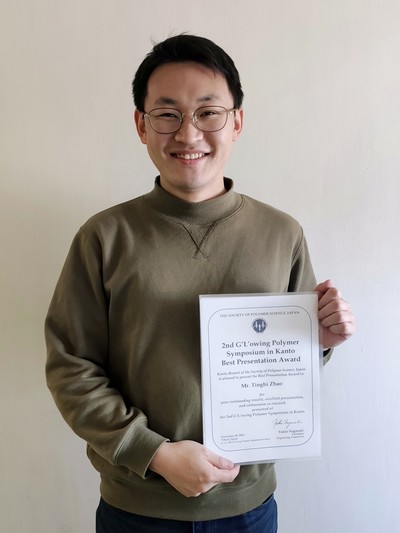 ・About awarded research
Title: Fluorescent Tunable Polymer Nanoparticle for Visualization of Cell-Surface Protein-Specific Sialylation based on Fluorescence Resonance
Energy Transfer (FRET)
We developed a fluorescent tunable polymer nanoparticle probe and established a dual-labelled FRET system on the cell surface. Based on this improved strategy, the imaging effect for protein-specific sialylation was significantly enhanced, and more obvious signal response was observed upon drug treatment. It has shown potential in application for early diagnosis of diseases.

・our impression & future plan
It's my great honor to receive this award. I feel very grateful to Prof. Takai and other lab members. I will go on to expand my research in the future.