2018.12.17
【Awards and Commendations】Yuki Mori (M2), Department of Nuclear Engineering and Management, won "Outstanding poster award" at The 24th SCEJ Symposium on Fluidization & Particle Processing
On 5th December 2018, Yuki Mori (M2), Department of Nuclear Engineering and Management, won "Outstanding poster award" at The 24th SCEJ Symposium on Fluidization & Particle Processing.
It was given for the superior presentation by the student in a poster session.


Circulating fluidized bed is an important machine in the field of chemical engineering. Because it shows complex phenomena, numerical simulations are often performed. DEM-CFD method, one of the Eulerian-Lagrangian approach, is often used. Although this method is widely used, it has a problem of calculational difficulty when we apply this method to industrial-scale gas-solid systems because these systems have an enormous number of particles. To overcome this difficulty, we developed an integrated-DEM-CFD method, which combines coarse graining model and advanced DEM-CFD method. The coarse graining model is enabled us to calculate large-scale systems by using coarse grain particles which represent a crowd of particles, and the advanced DEM-CFD method can calculate the effect of arbitrarily shaped wall by using the structured grid. In this study, to validate integrated-DEM-CFD method, we performed numerical simulation and experiment of circulating fluidized bed under comparable conditions.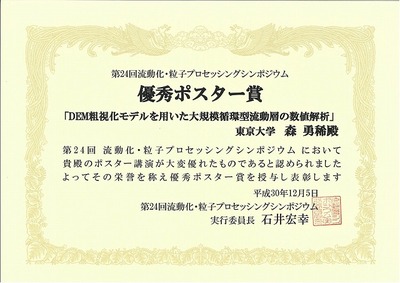 It is my great honor to win this award. I really thank Prof. Mikio Sakai for his excellent supervision, and I also thank all members of my laboratory. I will keep researching hard and try to improve our researches.