2016.10.26
December 14-20: JSPS-DST 2016 Asian Academic Seminar :Advanced Materials, Processes, and Systems for Sustainable Development
The Japan Society for the Promotion of Science (JSPS) and the Department of Science and Technology, India (DST) are pleased to announce the 2016 Asian Academic Seminar on Advanced Materials, Processes, and Systems for Sustainable Development. The seminar will feature lectures on the latest research in sustainable development-related fields, and aims to provide young researchers with an opportunity to gain new skills and build friendships with other researchers in Asian countries.
Please visit our website for further details:
http://www.t.u-tokyo.ac.jp/eng/Asian_Academic_Seminar/2016/index.html
Seminar participants (poster presenters) are invited to apply in accordance with the below requirements. Please review carefully before submitting an application.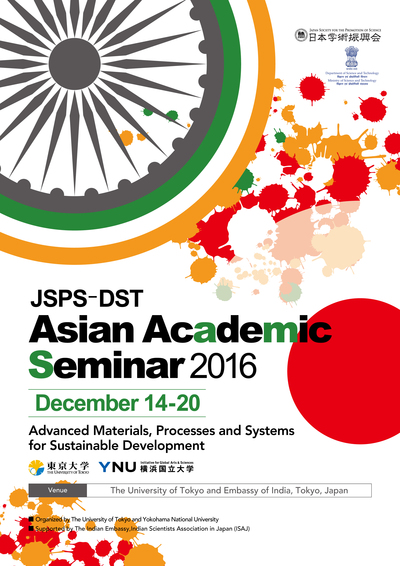 1. Dates:
    December 14 – 20, 2016
2. Venue:
    The University of Tokyo (Hongo Campus) and the Indian Embassy (Tokyo, Japan); Isehara and Fujinomiya (industry visit), Tsukuba (laboratory visit)
3. Eligible Participants:
    Participants must be post-doc students or doctoral researchers in a field related to the seminar topic.
4. Number of Participants:
    Approximately 25 students (Japan side)
5. Participation Fee:
    Free (JSPS will partially support daily expenses and domestic travel expenses for seminar participants.)
6. Seminar Overview:
    Dec. 15: Lectures at the Indian Embassy; poster presentations
    Dec. 16: Industry visit (AMADA Solution Center & AMADA ENGINEERING Fujinomiya Works)
    Dec. 17 –19: Lectures at the University of Tokyo; poster presentations
    Dec. 20: Tsukuba laboratory visit
    20 visiting student participants and lecturers from India, and 10 lecturers from Japan and other parts of Asia are expected to take part in the seminar. Participating students should expect to join all lectures, poster presentations, and discussion sessions.
7. To Apply for Participation:
    Please upload the Participant Application Form and written approval from a supervisor to the upload box HERE. Please use the file names as PARTICIPANT APPLICATION FORM_ "Your NAME"
8. Application Deadline:
    November 10, 2016 (Thursday)
Lectures held at the University of Tokyo between December 17 (Saturday) and December 19 (Monday) are open lectures and may be audited (provided an application to participate as an auditor is submitted). Post-doc, doctoral, master, and undergraduate students, as well as industry researchers and specialists are welcome to attend as auditors (rather than participants). If you would like to attend as an auditor, please complete the Auditor Application Form and upload it to the upload HERE. Please use the file names as AUDITOR APPLICATION FORM_"Your NAME." Deadline for submission of the Auditor Application is the same as the above-indicated deadline for student participant applications (Thursday, November 10).