TOPICS
Yu Sugo (M2), Department of Applied Chemistry, received The best poster award at the 11th CSJ Chemical Festa
Yu Sugo (M2), Department of Applied Chemistry, received The best poster award at the 11th CSJ Chemical Festa.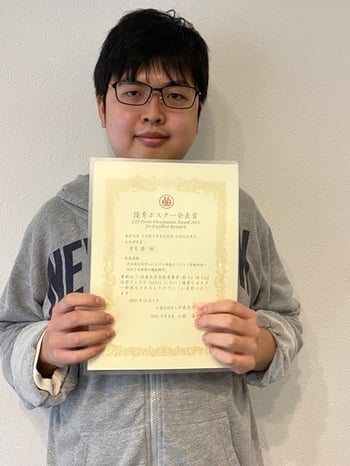 <Name of award and short explanation about the award>
The best poster award at the 11th CSJ Chemical Festa.
This award is conferred to excellent poster presentations delivered by young researchers or students.

<About awarded research>
Photosynthesis is explained by the electron transfer induced by light and the proton transfer induced by that electron transfer. In the reaction center where photoexcitation and electron transfer occur, the molecule that receive and transport electrons and protons is called ubiquinone QB. In the reaction center of purple bacteria, the pathway of proton transfer to QB has been unproven for more than 20 years since the crystal structure was elucidated, and several proposals have been in conflict. This is because it is difficult to observe the proton movement experimentally. So, we have demonstrated this proton motion by computational chemistry. In addition to the proposed but unproven pathway, we found a new pathway that had not been proposed before.

<Your impression & future plan>
I am very honored. I would like to express my deepest gratitude to all the people involved. I am studying the mechanism of proton transfer which controls photodamage in the photosynthetic reaction center of higher organisms. Each proton transfer is a small event, but it has a large impact. Since it is difficult to experiment with, I think this is where the real power of computation comes into play. I would like to be involved in various proteins and study proton transfer.