TOPICS
Shuo Li (D3), Department of Nuclear Engineering and Management, received Excellent Poster Award
On 14th October 2021, Shuo Li (D3), Department of Nuclear Engineering and Management, received "Excellent Poster Award" at 8th Asian Particle Technology Symposium.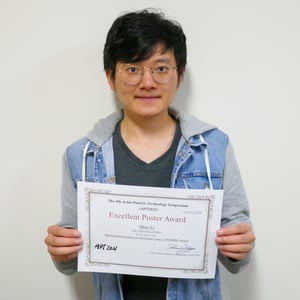 <Name of award and short explanation about the award>
8th Asian Particle Technology Symposium Excellent Poster Award
It was given for the excellent poster by student at this symposium in 8th Asian Particle Technology Symposium.

<About awarded research>
The discrete element method (DEM) has been extensively used to simulate particle behavior in various industrial processes. One key challenge is the huge computational cost when the DEM is employed to optimize the device design and operational conditions. With an aim to overcome this issue, we propose an Eulerian-Lagrangian reduced order model (ELROM) to simulate the large-scale gas-solid flow in a fluidized bed. The macroscopic characteristics calculated by ELROM agree well with the full-model results. Meanwhile, the ELROM can largely reduce the computational cost by several order of magnitudes without compromising simulation accuracy. This model is shown to significantly improve the calculation efficiency for optimization of device design and operational conditions in the large-scale simulations of powder flows.

<Your impression & future plan>
It is my great honor to win this award. I would like to express my sincere appreciation to every member in my lab, especially Dr. Guangtao Duan and my supervisor Prof. Mikio Sakai. For future, I will make my best effort to continue my research about the numerical simulation.