TOPICS
Yo Murata (B4 at the time), Department of Mechanical Engineering, won Best Presentation Award at The JSME Kanto branch graduation thesis meeting
On 18th March 2019, Yo Murata (B4 at that time of research), Department of Mechanical Engineering, won Best Presentation Award at The JSME Kanto branch graduation thesis meeting.
This award was given to students that gave excellent oral presentations during the meeting.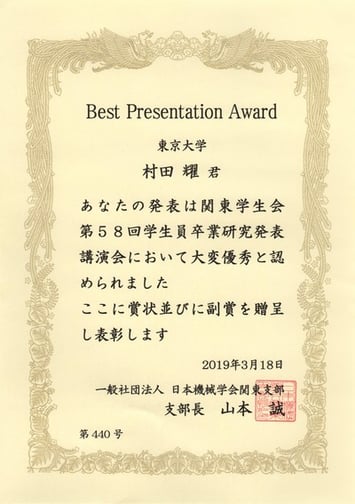 <About awarded research>
Title:Acoustic Field Caused by the Interference of Supersonic Jet with a Perforated Plate -Effect of Sound-Absorbing Material-
Outline of presentation:The supersonic jet is known to be a source to high intensity sounds. These sounds cause problems on some occasions, for example, the launch of a rocket.
During a rocket-launch, high intensity sounds are generated by the exhaust jet flow, which vibrate the body of the rocket and possibly cause malfunction of the payload. Thus, reduction of these sounds is necessary but basic studies on these sounds are not yet enough.
Therefore, in order to study the basic properties of these sounds, several experiments were made, using a combination of one supersonic jet flow and one perforated plate to simulate the rocket-launch situation. During the experiments, sound-absorbing material was flush-mounted on the perforated plate as an approach to reduce the sounds generated by the supersonic jet.
It was shown in the results that sound-absorbing material reduced the sounds as expected, and therefore it can be considered as an effective approach. In further studies, we may be able to optimize the type and location (on the perforated plate) of the sound-absorbing material.
I believe the acknowledgements made in this study will be useful in larger-scale experiments, and eventually even actual rocket-launches.

<Your impression & future plan>
It is great honor and pleasure to receive this award. I greatly thank Prof. Shigehiko Kaneko of the University of Tokyo and Dr. Tatsuya Ishii of JAXA for their excellent supervision. I would also like to show my gratitude to everyone who supported my research, including the researchers of JAXA and my colleagues at the University of Tokyo. In the future, I would like to make further efforts in research activities and strive to contribute to society.