TOPICS
Fuad Gandhi Torizal (D3), Departments of Bioengineering, received Best Research Paper Presentation at the Interdiciplinary Conclave of NCRM-NICHE 2018
On 22nd December 2018, Fuad Gandhi Torizal (D3), Departments of Bioengineering, received Best Research Paper Presentation at the Interdiciplinary Conclave of NCRM-NICHE 2018.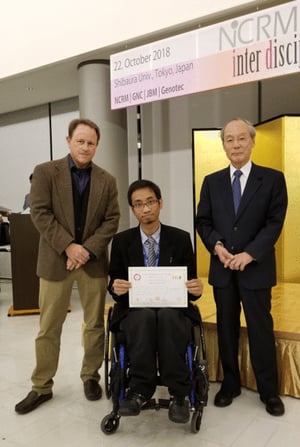 <Name of award and short explanation about the award>
Name of Award : Best Research Paper Presentation of Interdiciplinary Conclave of NCRM-NICHE 2018.
Presentation title : Development of High Density Dynamic Suspension Culture System for Human Induced Pluripotent Stem Cells Expansion and Differentiation towards Definitive Endoderm
Short Explanation :
This award were given to scholar for their distinguish regenerative medicine based-research which delivered as oral presentation. The event were held at October 21-23 in Tokyo by Nichi-In Centre for Regenerative Medicine (NCRM) in academic partnership between German Society for Stem Cell Research (GSZ), TPRM The University of Toronto, and Shibaura Institute of Technology (SIT) to enhanced the research collaboration and insight among academic/research community, mainly outside Japan.
<About awarded research>
Our research is develop the high density suspension culture systems for human induced pluripotent stem cells (hiPSCs) for expansion and differentiation by using our own designed culture systems which increasing the utilization of native biological interaction such as autocrine and paracrine of hiPSCs to significantly reduce the expensive growth factor usage. This development of cost effective culture systems can be potentially used for various clinical and industrial application which required large amount of cells.
<Comments>
This kind of event is one of the good opportunity to increase our knowledge and shared our idea with research society from different country. This award were motivate me to do my best to enhanced and innovate my research so it can be useful for future society through research and clinical application of regenerative medicine.