TOPICS
Postdoctoral Researcher Shinya Yamahira wins a CSJ Presentation Award 2016
Postdoctoral Researcher Shinya Yamahira, Department of Chemistry and Biotechnology, wins a CSJ Presentation Award 2016. Candidates of this award are evaluated on presentation content, presentation ability, the quality of question and answer and overall presentation. Also they are expected to progress the research strongly.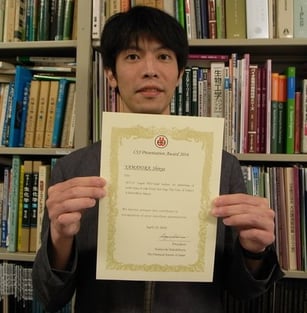 < About awarded research>
On poly (ethylene glycol)-lipid surface, cells can be immobilized rapidly without their spontaneous adhesion because the lipid anchor can be inserted into ubiquitous lipid bilayer membranes in a noncovalent manner. Here we show a first report of caged PEG-lipid surface. We designed and synthesized a new PEG-lipid conjugate that can capture cells only after light-based activation of lipid-cell membrane interaction. On this surface, co-patterning of multi-types of adherent cells, nonadherent cells and other spherical structures composed of a phospholipid such as liposome were demonstrated by repeating operations of light-pattern irradiation and seeding arbitrary types of cells.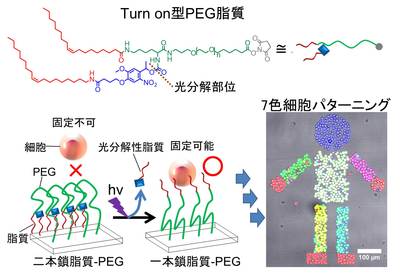 <Comments>
I am honored and grateful to win the CSJ Presentation Award. I will continue to push forward with my research in stimuli-responsive materials. I would like to thank Professor Teruyuki Nagamune, Lecturer Satoshi Yamaguchi, and the supporters of this work.